December 1, 2014 in information, main, newsletter by Rob Hallam
And so, it's upon us. The last meeting of term.
There's a mixture of joy and sadness in this, as in all things. Joy, because we've done some great things these past few months; and sadness because there won't be any more GU Amnesty meetings until January. Joy for the anticipation of Christmas and the holiday season, and sadness for the looming threat of exams.
Joy for the efforts of ours that make a difference:
"I am so grateful for everything that people are doing in the UK to help me. The letters I have received give me hope. When I hear about the level of support and everything that is being done for me by Amnesty International, it makes me the nappies man on Earth."

— Moses Akatugba, in prison in Nigeria for eight years facing execution (via Justine Ijeomah)
And sadness that there is still so very much to do in the world. Keep lighting those candles.
After such an awesome week last week with so many things on, this will be relatively short – and my apologies for being somewhat tardy – newsletter!
This Week: Write for Rights!
Tuesday 2nd December 2014 5PM, QMU Committee Room 1

This week we'll be taking part in Amnesty International's 'annual write-a-thon', otherwise known as Write for Rights. The tagline goes 'write a letter, change a life' (you might also see 'save a life'); and the idea is that every December people around the world take an action (see links above) or write a personal message to one of 12 individuals or communities at risk.
We will be hearing a few presentations on some of those features in this year's selection (again see first Amnesty UK link above), and then people can choose to write one or more messages for those or the others featured this year.
We'll also be asking for some feedback on this semester in terms of campaigns and events. So if you feel something went well, or – just as importantly – if you were disappointed by something or felt it could have gone better, please come along and let us know. All feedback is welcome; and you can do it anonymously if you wish.
We'll be heading down to Jim's for an end-of-term social afterwards, and we'd love for you all to come along 🙂
Jamnesty – Success and Thanks!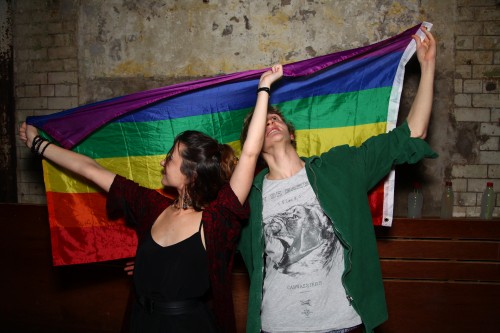 (Difficult to pick just one photo out of all the amazing ones of people enjoying themselves, bands and the wonderful decorations so I went with this one)
Wow.
I think everyone who went would agree: Jamnesty was awesome! Firstly I'd like to say thank you to the artists and bands who provided us with some awesome sets:
and to the DJs for entertaining us in the afterparty:
*(Apologies if I got any of those links incorrect – there's a couple of overlapping names!)
I'd also like to thank everyone on the Jamnesty subcommittee without whom Jamnesty would not have happened. Not only did a lot of effort go into making the venue look beautiful – I think you'll agree! – on the night; but even more work went into the run-up in terms of flying, postering, seeking raffle prizes, making decorations and lots more besides. Big kudos for these guys.
And lastly, our thanks to Stereo for providing such an awesome venue, and to the local businesses who provided the raffle prizes (please support them!).
The bar has been set very high indeed for next year, and that's a great thing.
My stamp still hasn't quite faded
Reclaim the Night 2014
This year's Reclaim the Night march was again extremely well-attended. Thanks to everyone who came along and took part, and to Ruth for taking most of the photos on the night. Violence against women still sadly happens in this day and age, here and around the world. It is a topic we can perhaps return to next semester.
Coming Up
GHRN & Amnesty UK Present: My Body My Rights
Monday 8th December 2014 2-5PM, Gannochy Seminar Room, Wolfson Medical School Building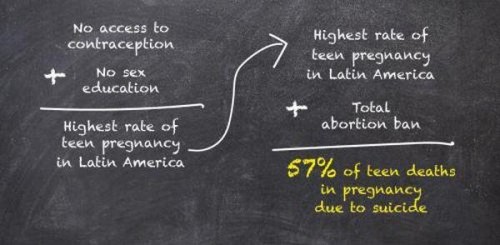 This is a solidarity event with women and girls in El Salvador:
El Salvador has one of the world's most punitive abortion laws, with abortion a crime even when a woman's life is at risk. Every year, thousands of women and girls are being driven to the brink of death by the country's absolute ban on abortion, which carries a prison sentence of up to 50 years for 'aggravated homicide'.

Featuring keynote speaker, Morena Herrera, Director of Agrupación Ciudadana por la Despenalización del Aborto (Citizen Group for the Decriminalization of Abortion) based in El Salvador. The event will be followed by a reception. If you would like to attend, please register on the Eventbrite site.
Amnesty International's recent report On the brink of death: Violence against women and the abortion ban in El Salvador, documents how in some cases women who have had abortions or miscarriages have been prosecuted and jailed for up to 50 years for "homicide" or "aggravated homicide" after being reported to the police by their doctors.
This is also something that will work as a good intro to what we may be covering next semester, so I would encourage you to go along if you can!
Thanks for Reading
Since the kittens and puppies went down well last week, and since there's still the stress of exams to look forward to, I thought I would up the ante by two this week: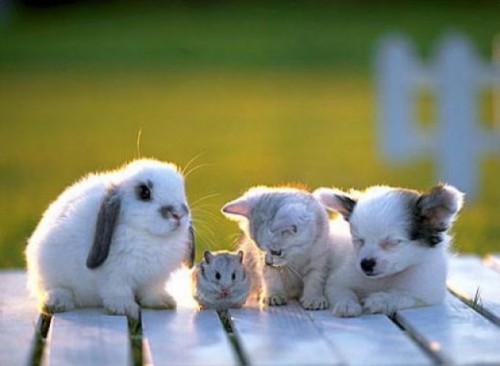 Lovely.
Alexander the Great came up in conversation (and on the radio) a few times this week, and so I thought I'd share a gif I found tracing his progress.
It doesn't really do the incredible feat justice, but there you go. As an aside, when tracking it down I found that it's much easier to find pictures of Colin Farrell than about one of history's greatest military leaders. So there you go.
Get in Touch
If you have any questions, suggestions or feedback you can always get in touch either via the website or on Facebook or Twitter.