October 31, 2014 in main, newsletter by Rob Hallam
November is nearly upon us- where did October go? It's practically Christmas already…
This week's newsletter is coming to you all slightly early as I and other dignified delegates are London-bound for the Amnesty International Student Conference 2014! We'll come back informed, motivated and excited (even moreso) about all things Amnesty.
Let me start by thanking everyone who came along to the Pub Quiz- although one team scored the most points*, in my view you are all winners for having braved the howling wind and rain on Sunday to come and support one of our fundraising nights. Pat yourselves on the back. Of course I'd also like to thank Joe and Seb for doing an excellent job of hosting, all the people who wrote questions, ran last-minute printer dashes, brought decorations along, helped mark, took photos, and everything else which helped the night run smoothly. And another well done to Joe for coordinating it all! Early tallies look like we raised over £200, so it was a very successful night!
I was later informed that the winning team re-gifted their winnings! You guys are the coolest; and I'll sign papers to that effect!
I'd also like to extend our gratitude to Dr Marco Goldoni for kindly coming along to give us that very informative talk. I found the issues and conundrums raised fascinating and useful for framing future discussion around the role of the law in relation to race and human rights.
Lastly for this intro, I'd like to say congratulations to Ruth over at the Coalition for a Conflict Free Glasgow University (GU CFCI) for putting on an excellent conference. The speakers were very informative, with a broad base of the subject being covered. It seemed to inspire the folks who were there on Wednesday, and roll on the next Senate meeting! We will continue to support the CFCI, but if anyone is interested in working on that directly, get in touch with the group via their Facebook page and Ruth will get you involved.
This Week: Human Trafficking
Tuesday 4th November, 5PM QMU Committee Room 1

This week we'll be looking at Human Trafficking, our next chosen campaign for the first semester. We are trying to confirm another guest speaker for Tuesday, and we may also have a film clip to show you.
It'll be another exciting meeting for our second campaign of the year (as chosen by YOU)!
Jamnesty Tickets On Sale Now!
Wednesday 26th November, 7PM, Stereo, Renfield Lane

I'm delighted to announce that tickets for Jamnesty next month are now available online. It will be a fab night of music and DJing for £5 (£4 without afterparty) which is a damn good price per hour of entertainment.
With music to blow you away from Chrissy Barnacle, Hannah Jackson, The Van T's, Harry & the Hendersons, and Sunshine Social; and featuring DJing 'til 3 from Flore De Hoog, Heavy Daze, and DJ Hushpuppy.
Join the Facebook event and invite your friends. It's going to be a big one – get booking now!
Reminder: SPB Poster Competition
Friday 31st October
Just a reminder that this week is the deadline for submitting entries to the SPB poster competition. The details are in a previous newsletter which you can find on our website.
The deadline is 31st October 2014 and the grand prize is two tickets to this year's SPB. Plus the whole bunch of kudos and exposure of having your design plastered around the West End and online. We've had a couple of entries already, so get cracking! (If you can't quite make it for Friday, send them in over the weekend and we'll still consider them).
Please send your entries to spb@guamnesty.org.uk; and good luck to all entrants!
Syrian Refugee Week Update
26th Jan – 1st February 2015
Just a quick update on a meeting that the coalition held for the Syrian Week that's being held at the start of next year. We are in the process of firming up events; the hope is that in collaboration with the other societies involved to have one each day. It's very exciting to have other societies onboard and keen to organise things too- the collaborative spirit! The events that have been suggested so far include:
An introductory lecture
A workshop on the asylum seeking process in the UK that Syrian refugees would face
Documentary screening and Q&A
Panel discussion
Fundraising ceilidh
Pub quiz!
There may be more events added to this list as more societies get involved. We heard that the SRC are happy to endorse this as an official week of events, which is great news!
Thanks to Oxfam, GRASS, Unicef, GU Catholics Society and CFCI for coming along and getting stuff planned; and to Alex for chairing the meeting!
Submission to Smith Commission
Friday 31st October 5PM 2014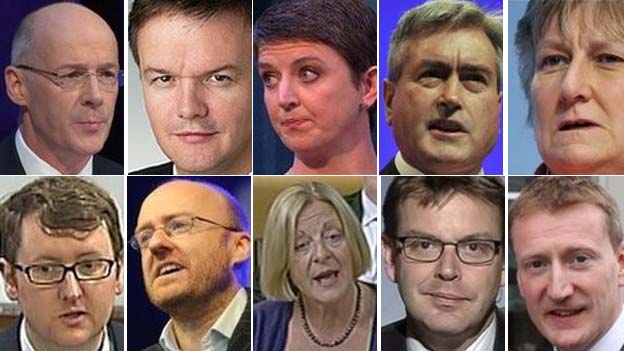 We're doing a short-but-important submission for the Smith Commission, as I mentioned at the meeting this past Tuesday. While we want to stay away from any thorny political issues; but given the Rights Referendum campaign that went on during the indyref we felt this was a huge opportunity to reinforce the call for and importance of human rights as part of any settlement process.
Update: We have submitted our recommendations, which I attach a copy of here.
GUAmnesty-SubmissiontoSmithComission
We would encourage individual members to read others submissions and make their own voice heard, which can be done through the Commission's website. Let us know if you submit anything!
Online Petition: Urge DoJ Action on Lethal Force
Apropos of the work we've been doing on Ferguson, including all the great letter-writing everyone did, we thought it would be worthwhile to do an online action to follow this up as well. From Amnesty USA:
The ongoing protests in Ferguson Missouri have ignited a national conversation about the persistent and widespread pattern of racially discriminatory treatment by police across the United States, including unjustified stops and searches, ill treatment and excessive, and sometimes lethal, use of force.

The U.S. government must do more to ensure policing practices nationwide are brought into line with international human rights standards, including the use of lethal force, and to address systemic racial discrimination. The Department of Justice has failed to collect accurate, comprehensive national data on police use of force, including the numbers of people killed or injured through police shootings or other types of force.
Go ahead and sign the petition now.
Thanks to Sarah for pointing the petition out!
Reclaim the Night March
Thursday 27th November 2014, Starting at Botanic Gardens 6:15PM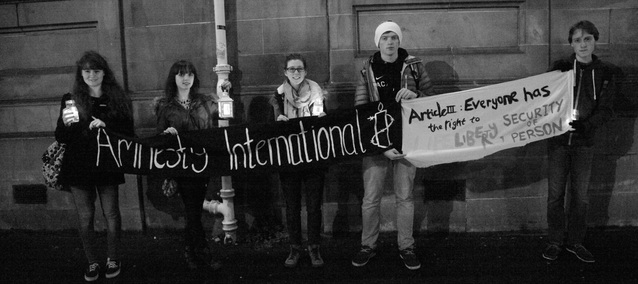 This is a month away but it's worth getting on everyone's radar now, which is code for "I hope you enjoy being reminded about this for the next four newsletters".
This year's march will take place on Thursday 27th November (that's the day after Jamnesty!) with assembly at 6:15 PM outside Botanic Gardens on Great Western Road (opposite Oran Mor).
I'll give more details closer to the time, and we'll be looking for folks to come along and carry banners or candles. It's a fairly short march but it always has a good atmosphere, so whether you've been before or not come along!
You can see photos from last year's march which we took part in after a Tuesday meeting.
More Photo Updates
In case you missed it, the pub quiz photos were published from last week.
Because of the talk by Dr Goldoni on Tuesday and the group work afterwards I only managed to take one photo on Tuesday!
The photos from the Conflict in the Congo conference hosted by GU CFCI will go up on their Facebook page soon, but in the meantime please enjoy one sample below!
Thanks for Reading
This week's bonus comes to us courtesy of the Cooperative Institute for Meteorological Satellite Studies / University of Wisconsin-Madison, where one of the many visualisations they produce is a composite total-precipitable water graph: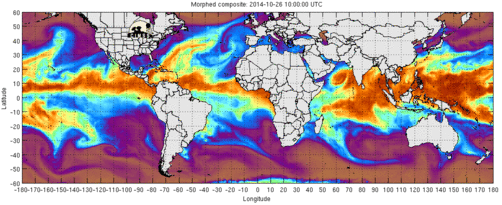 (click for bigger version)
Now ain't that real purdy? You can see more on the MIMIC-TPW page.
Get in Touch
If you have any questions, suggestions or feedback you can always get in touch either via the website or on Facebook or Twitter.