November 24, 2014 in actions, events, main, newsletter by Rob Hallam
Special Notice
We are continuing our food collection for Maryhill Food Bank. Please bring along cans, jars and packets of food as you have been so generously doing. MFB have a particular preference for certain items that they typically run short of, so if you could bring any of the following in particular that would be even better: puddings, cereal packs, porridge, nappies, wipes, tinned fruit, pasta sauces, sweetcorn, peas, baby food jars or kids clothes. Thank you for continuing to support Maryhill Food Bank so generously!
Here we are with our second newsletter powered by MailChimp! I appreciate everyone's patience while we work through the teething problems- last week's newsletter initially went out unformatted, but a little wind-like coding brought a template into usability! The template still needs a bit of tweaking to get the margins lining up prettily, so continued patience is appreciated. As usual we would strongly welcome feedback; you can find our contact details on the website, or if you are reading this in email form you can simply hit reply!
I'd like to extend a huge thanks to Julie Webster who came down from Maryhill Food Bank to give us the thoroughly interesting and enjoyable talk and Q&A session. It drove home both how important the work they do is and how much of a difference it – and we – can make. A big well done to Seb for getting that organised! Enthusiasm for this campaign and our support is clearly still high, so I have high hopes for our collaboration with the SRC and other groups to do a big food drive!
I also want to say a big thanks to Joe for organising and Harry and the Hendersons for coming along to our lovely Jamnesty Preview Social last week! We got to hear some excellent tunes, which I look forward to hearing again on Wedesday!
This Week
It's a big one with lots on this week folks!
Tuesday 25th November: Jamnesty, Different Aspects of Food Banks and LGBTI+/Homelessness
Tuesday 25th November 2014 5PM, QMU Committee Room 1
This week's meeting will have a few different aspects relating to what we've been looking at with food banks, while still being new and fresh:
– A little spiel about what to expect from Jamnesty, with a last chance to buy tickets!
– A brief overview of the situation homeless people face with regards to food
– An intro and discussion of challenges facing LGBTI+ people who are homeless (with photo action)
Lastly, our intention is to visit supermarkets to do some food collection- we have asked Julie Webster for some guidance on this, so don't be intimidated 🙂
Please also remember to bring along any plastic bottles you might have which we can put to good use for Jamnesty decorations!
Wednesday 26th November: JAMNESTY!
Wednesday 26th November 7PM, Stereo, Renfield Lane
It's here! This week, it's Jamnesty time:
Everybody has been working so hard on this, I know it's going to be a great night! We've all been looking forward to this for a long time, and here it is now. If you don't have your ticket already, you can buy them online. We've got folks high-tailing back from London to make it to the night, so set aside some time and come along!
Thursday 27th November: Reclaim the Night
Thursday 27th November 2014 6:15PM, Starting at Botanic Gardens
If you've read any of the newsletters for the past month you'll already know about this march, but this is coming up this week on Thursday. This year marks the tenth anniversary of the march, and this year's theme is women's safety on campus. The march will take place from the Botanic Gardens on Great Western Road and will proceed to the STUC on Woodlands Road via University Avenue. After, there will be a rally at the STUC with speakers including Denise Mina, patron of Glasgow Rape Crisis centre and Vonnie Sandlan, NUS women's officer.
More information is available from the Glasgow Rape Crisis website.
You can see photos from last year's march which we took part in after a Tuesday meeting.
Coming Up & What's On
End of Term: Christmas Caroling and Social
Day TBC
We've still to confirm a day for this, but we're aiming for a couple of weeks from now. Every year we have a Christmas social and go out and sing some carols. We may hold both of these on the same afternoon/evening this year, so keep your eyes peeled for more details to follow. If you're worried about singing or coming along to these as you don't know folks too well please have no fear! We're no orchestral choir (speaking for myself here!), and regardless of ability it's a good way to get to know the rest of the lovely folks in the society.
Light Against Darkness: Syrian Children's Art Exhibition
St Mary's Cathedral, Great Western Road, 21-30 November 2014
"The whole thing moves from the darkness and trauma of war to the light of the return to happiness and life."
Brian Larkin, Edinburgh Peace and Justice Centre
If you have 20-30 minutes to spare this week I would strongly encourage you to go along to the art exhibition featuring the work of Syrian refugee children at St Mary's this week. We were in attendance for the launch on Friday (partly due to the relevance for our Syrian Refugee Week in January) and the art is incredibly moving.
Picture the usual crayon or paint drawings of kids, the type you would have done back in school. Houses, people, cars. Except here, the houses are broken. The people are lying down, surrounded by red. And instead of cars, there are tanks. Much of the art has captions to go with it. 'I want to go home but it's no there anymore'. 'We hid in the basement but my grandfather was hit in the leg with shrapnel'. 'I miss my town but I see it all the time on the news'. Heart-rending stuff.
I don't want to describe it further as my words cannot do the experience justice. It's not far (closer than Munros) along Great Western Road; about a block past Kelvinbridge subway. I'm not sure if Brian Devlin of the Children's War Museum will be there through the week, but if he is – and I'm sure he would introduce himself – have a chat to him as well, as he can tell some of the story behind the exhibition.
There's a related article on BBC News.
Photo Action for Prageeth Eknaligoda
One of the things we've been wanting to do this year is more online actions- things folks who cannot make the meetings can do from home (or the library!). Since people seemed interested in this, I thought I would include a photo action sent to us by Jim McDonald, the Sri Lanka Country Specialist at AI USA (you may have seen him post on our page before). Here's the message:
Friends,

Prageeth Eknaligoda, a disappeared Sri Lankan journalist/cartoonist, is one of this year's featured AIUK's Write for Rights cases. See http://amnesty.org.uk/write-rights-prageeth-eknaligoda-sri-lanka

Besides writing the Sri Lankan government and sending a solidarity message to Prageeth's wife Sandya, I'd ask that AIUK activists participate in a photo action for Prageeth. I've set up a dedicated page on Flickr for him; see http://www.flickr.com/photos/whereisprageeth. I'd like to get as many photos as possible on the Flickr page by Jan. 24 (the fifth anniversary of his disappearance), at which time I'd share the photos with Sandya and the Sri Lankan government.

Directions on how to do the photo action, along with a sample sign, can be found at http://www.amnestyusa.org/pdfs/AI_SL_flickr_photo_action_kit.pdf. People could use the sample sign or create their own signs saying "Where is Prageeth?" (in English or another language). As the directions say, photos can be emailed directly to the Flickr page. Or people could just send photos to me through Facebook, email them to me at jmcdonald@aiusacs.org, or send them to me through Twitter (@jmccdon).

Thanks a lot for any help anyone can give on this action. Take care.
The Flickr page has 275 photos at time of writing- let's add GU Amnesty's finest effort to that! Show them that Glasgow cares. Here's my contribution: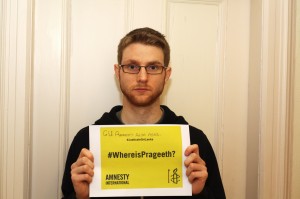 Instructions are in the Amnesty USA link above. We've nearly 1000 subscribers to this newsletter, so grab your phone or camera, write #WhereisPrageeth and send the snap to Flickr. If you're tweeting, mention @guamnesty and we'll give it an RT!
I should also mention that our friends over at the Strathclyde Uni Amnesty group are doing a film screening tomorrow, Monday 24th November at 6PM in the Lounge on Level 5 of their Union (it's a big union!). The film is No Fire Zone – Killing Fields of Sri Lanka so if you are interested and have time I would recommend popping along and saying hi from us!
Strathclyde will also be taking part in the photo petition above – let's get a whole bunch of photos in solidarity.
Request for Comments: FAQs
One of the great ideas our Website Officer Siuan had recently is to get a page started to answer some frequently asked questions; things like "What is a typical weekly meeting like?" or "How can I be involved?". So to that end we've created a page for FAQs!
We're still gathering the questions and writing the answers, so if you have a suggestion or a question, please either email us or use the form on that page. Thanks!
Thanks for Reading
With everyone stressing out about exams, I thought this week's 'thanks for reading' bonus reward value loyalty points members club perk should be something suitably anodyne:
Not enough for you? Alright, have another one:
And with that, I think the internet might have exploded. For those of you with deadlines who appreciate feline-based incentives, you might want to have a look at Written? Kitten! which rewards meeting word counts with cute kitten pictures. Everybody wins!
Get in Touch
If you have any questions, suggestions or feedback you can always get in touch either via the website or on Facebook or Twitter.