October 12, 2014 in cfci, information, main, newsletter by Rob Hallam
Another week has flown in! Congratulations to our three new committee members:
Fundraising Officer Joe Clerke
Ordinary Board Sarah Bacom
Ordinary Board Seb Hammani
And my deep regrets to those who stood but were not elected- please don't be too disheartened, we definitely still very much want and appreciate your input over the coming months! The main AGM will take place in the second semester for those interested in standing then. I hope you will be just as keen!
Thanks to everyone who helped making the banners for the death penalty demo on Friday; and my apologies for the confusion over the crafting session- due to issues with room bookings we decided to use the banners we already had plus the two that were made on Tuesday. A big well done especially to those who braved the intermittent showers to get all the #notodeathpenalty photos on Friday!
If all the death penalty campaigning has piqued your interest and you have ideas or want to get involved give us an email at campaigns@guamnesty.org.uk.
Tuesday 14th October: Film Screening of In Prison My Whole Life
5PM, Boyd Orr Building Room 222

Please note the venue! We're over in the Boyd Orr Building for the meeting this Tuesday. We'll be watching the film In Prison My Whole Life, which we saw the trailer for last week. If you missed it, you can see it here:
(link for those reading in email: http://www.youtube.com/watch?v=c7K3pdnsWmM)
The film deals with the case of Mumia Abu-Jamal, convicted in July 1982 of killing a police officer. The title comes from the day in December 1981 of Abu-Jamal's arrest- the day Will Francome (creator of the documentary) was born. We're lucky to have Will Francome joining us via teleconference after the screening too. It should be a very good watch! More information and join the event: https://www.facebook.com/events/721239527960240/.
Wednesday 15th October: Death Penalty Debate with Dialectics
6PM, Boyd Orr Building
Rounding off our look at the death penalty (for the time being) will be this debate conducted by the Dialectics society. Join us for a discussion of how the death penalty is used internationally in what promises to be a very informative look at some of the issues surrounding extrajudicial killings, war crimes and mob justice.
Get more info and join the event on Facebook!
Reminder: AIUK Student Conference
November 1-2 2014, London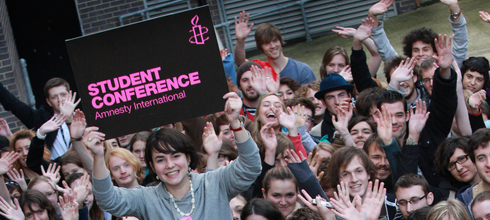 Another quick reminder about the student conference coming up soon. We've got a few folks confirmed as going, so do get in touch if you want to come along! It's a two-day dive into what Amnesty International is all about: campaigns, actions… and meeting and socialising with other groups!
Although the registration fee costs £20, we can apply to the SRC for a reimbursement on that so keep those receipts! There are workshops, campaign actions, discussions, socialising and much more. Let's not forget we have an award to pick up for last year's Secret Policeman's Ball! Please let me know if you are interested in coming and we can try to make travel plans for the group.
Places go quickly so don't delay! More information and booking link are available on the student conference page; if you are travelling down please let me know and we can book something all together!
GU GRASS Info
Since there was interest in GRASS last week after Kit filled us in on some upcoming events (Thanks Kit!) I thought it would be worthwhile to give a few more details for those that might be interested in what's happening and the great work that they do.
So first of all, from their about page:
At Glasgow University, we use our position as a university society to help asylum seekers and refugees in the best ways we can. As Glasgow is a distribution centre for refugees, a strong network of support for arriving refugees and asylum seekers in Glasgow is really important. GRASS began in 1999 and has been working to improve the lives of refugees ever since.
You can find them on Facebook and their website is pretty informative for things like past and current projects. Also on Facebook is the event page for their Pub Quiz which Kit also mentioned.
Sleep-Out: Friday 24th October 2014
The annual sleep-out returns! GU Amnesty has long been involved in these and they're a really good way to raise both money and awareness. Basically the idea is to meet up with sleep gear (bags/mats/etc), hang out for a bit in the evening to chat and listen to the music and/or theatre sketch (latter TBC!). Unfortunately it looks like it won't be possible to use the Wellington Church as a venue this year, which is a shame as it was almost ideal! Despite this it will be going ahead in a couple of weeks, so dig out the sleeping bag and get sponsored!
The SurveyMonkey poll for the charity to be fundraised for in the sleep-out is here.
Jamnesty Update
Domi and Milia have been working hard to get things sorted out for Jamnesty in November, which is already shaping up to be a fantastic night! We've a number of options for venues, and the line up of acts is looking good. If you want to get involved there's still time, just email jamnesty@guamnesty.org.uk.
SPB Update
As mentioned last week the SPB organisation is truly getting underway. Billy is totally on board with the plans and also wants to make this year bigger and better than ever!
Duncan will be organising another meeting of the SPB subcommittee this week – likely to be Monday afternoon – for those coming on-board (such as those who signed up on Tuesday- thanks to you guys!), so keep an eye on Facebook for the details on that. If you want to be involved, either get in touch via FB or email spb@guamnesty.org.uk.
CFCI News!

The Conflict-Free Campus Initiative has been a campaign GU Amnesty has been at the heart of for over two years. Briefly, it aims to change University purchasing policy to favour electronic items (PCs, laptops, tablets etc) which are produced in a 'conflict free' way. This means that, for example, the minerals such as gold, tin, tantalum and so forth are extracted and traded in a way that doesn't result in millions of deaths. You can read more about the background of the CFCI, conflict minerals and what's being asked asking for in our petition or the other information we have on it.
The CFCI is now an inter-society coalition, much like the fossil fuel divestment group was. And much like the fossil fuel divestment group had a very good result result in the uni senate recently so did the CFCI! The senate agreed to set up a working group (much like it did previously with the fossil fuels group) to examine the case for implementing the CFCI proposals. It's a big step on the road, but there's still a ways to go. On that note:
Wednesday 29th October: Conference
'Conflict in the Congo: Responses from the International Community'
4-6PM, Senate Room, Main Building, University of Glasgow
With several interesting speakers, this conference co-hosted by CFCI Glasgow, GHRN and Global Security Network is a great opportunity to find out in a bit more detail what has been going on in the Congo and what the response has been.
The event will be free and open to everyone, including all students and staff at the University, members of the Glasgow Human Rights Network and the Global Security Network, and anyone outwith the University who may be interested. The hope is that this event will provide an education to those who have little or no understanding of the on-going conflict in the DRC, as well as giving people from campaigning/academic backgrounds with a focus on the DRC or human rights and conflicts the opportunity to engage with a range of speakers who can discuss various aspects of international interventions.
It looks really great and I know that Ruth has put a lot of work into organising the event, so I would strongly recommend gong if you're free at 4 on Wednesday 29th! You can always check out the CFCI Facebook page for more info and updates.
Glasgow West Comedy Night
Wednesday 22nd October, 7:30 PM, The Stand Woodlands Road, £7
Our friends at the wonderful Glasgow West Amnesty group are putting on their annual comedy night, which is coming up on the 22nd of October. I've been to these before and it's a great laugh!
More info is available on the event listing page, and you might want to check out Glasgow West's page as well.
Closing
This week the newsletter comes to you from Sandridge Barton, near Stoke Gabriel in Devon. Reflecting those environs, I will leave you simply with a photo facing down to the River Dart. Enjoy.
Get in Touch
If you have any questions, suggestions or feedback you can always get in touch either via the website or on Facebook or Twitter.