You are browsing the Blog for social.


Special Notice
Special notice: We are still collecting for Maryhill Food Bank this week, so please keep up the generosity and bring along cans and packets of food on Tuesday at 5! Thank you!
The newsletter got sent out without formatting due to an oversight in settings, so this will probably be the second copy you receive- apologies for that! The template needs a bit of tweaking, but this will suffice for this week.
Welcome to another instalment of the newsletter! Hopefully this week the newsletter will actually reach more than half of our lovely subscribers (that's you!); if you were following the situation or are subscribed to the mailing list with a Yahoo or Hotmail address, you'll know that the newsletter wasn't delivered last week. My apologies to anyone affected by this. In the meantime, we've moved to MailChimp for newsletter delivery.
There will be a bit of a transition while we get used to how MailChimp works. The design of the email version of the newsletter may change a bit, but hopefully delivery should be rock solid. If you have any feedback or want to report any issues please do contact us.
Last week saw the kickoff of our third chosen campaign for the first semester: food banks. This is a completely new campaign for us, so it's really exciting to start getting our teeth into it. A big well done to Rebecca and Seb for putting together an interesting and varied meeting! It was extremely provocative. Those that missed the meeting or would like a reminder can find more info in our weekly blog writeup.
As I promised in the last newsletter, I will try and keep this as brief as possible, so on with the show!
This Week: More on Food Banks – Q&A and the Situation Elsewhere; Then Crafting!
Tuesday 18th November 2014 5PM, Committee Room 1, QMU

Last week we saw the video wherein Julie Webster talks about Maryhill Food Bank, the running of it, some of the cases of people who use it and so forth. This Tuesday we're hoping to get her along to the meeting to do a brief talk and Q&A session, which is a great opportunity to learn more about food banks in general and Maryhill Food Bank in particular. Get your thinking caps on for those questions!
We will also have a brief talk about the situation on food banks elsewhere- Sarah's mention last week of laws prohibiting the feeding of homeless people caused a not inconsiderable amount of consternation, and we'll take the opportunity to revisit that in a little more detail.
Lastly, we are at time of writing only 12 days away from Jamnesty! So after the food banks chat there will be a crafting session to bank the big banner for the night. If you could also save and bring any plastic bottles you have, we could really use those for decoration! Thank you.
Jamnesty Is Getting Near
Wednesday 26th November 2014, Stereo, Renfield Lane

You may have seen a number of brave souls enduring the wind and rain on Library Hill, going around shops and cafes and handing out one of our lovely fliers:
These awesome folk are the people doing the flyering. Big time kudos to them all! If we want to pack out Stereo – which we do – we need to make people aware that this big amazing event is happening on the 26th. So if you haven't already get inviting'! If you have them, please bring plastic bottles along to the meetings so that we can use them for decorations.
Jamnesty Social & Preview: MINI-JAM with Harry & The Hendersons and Twister!


Facebook event: https://www.facebook.com/events/673470369433251/
So as above you're all undoubtedly inviting your friends, family, coworkers, acquaintances and people on the street, telling them to buy tickets and spread the word further. But they're not sure about the music, or how cool we are. Maybe they think it will be a night of proselytising? Well, you can allay their fears! We've got a preview social for you.
Come along and hear one of the fabby bands playing on the 26th – Harry & The Hendersons – and join us for bingo, twister, drinks and possibly more!
If nothing else, come along on the 26th and enjoy yourself 🙂
Coalition for Syrian Refugees Meeting
Wednesday 19th November 2014, 4PM, Fraser Building
We're only a few weeks away from the end of term, and the Syrian Week is pretty close to the start of semester 2. The week is taking shape, but if you or someone you know would be interested in being involved in organising events for the week there is a meeting this Wednesday at 4 in the Fraser Building. Please feel free to come along even if you haven't before.
International Women's Week 2015

It's a while away yet – International Women's Day is March 8th – but the planning for International Women's Week 2015 will be starting soon. As with last year there will be an organising committee forming to coordinate all the various events, and if you're interested please let us know by email. Otherwise keep an eye on Facebook as we will be posting information on meetings etc there.
It's a great opportunity to be involved in a big-impact very visible event or the whole week of events, and last year there was a big team made of up of lots of different societies so you'll have platy of support. Don't be shy!
SPB Poster Competition Winner, Kaitlyn Hair!
We have a winner in the Secret Policeman's Ball 2015 Poster Competition:
Congratulations to Kaitlyn Hair for her winning entry! It's bold and eye-catching, which is just what we want in a poster for a bold night of comedy! Kaitlyn wins two tickets to the Secret Policeman's Ball. Well done to all the other entrants too; the quality of entries was high and it was a tough choice this year, as ever.
Upcoming Events
These are reminders from last week, but since most folk didn't get the newsletter I reckon this is fair game.
GHRN: Sakharov Prize 2014
Thursday 20th November 5.30PM, Room 916, Adam Smith Building, University of Glasgow
Since this is coming up through the Glasgow Human Rights Network, I thought I'd mention it as it may be of interest to some to go along and hear about the nominees.
The European Parliament's Sakharov Prize for Freedom of Thought is awarded every year to honour exceptional individuals who combat intolerance, fanaticism and oppression. This year the European Parliament awarded the Sakharov Prize for Freedom of Thought to the Congolese gynaecologist Denis Mukwege, who helps thousands of rape victims in the Democratic Republic of Congo.

Students on the MSc Human Rights & International Politics course will set out the case for each nominee for the Prize. This will be followed by a Q&A session, a public debate and vote.

The discussion will be followed by a wine reception. Everyone is welcome. If you would like to attend, please register on Eventbrite.
These events are a good way to meet other folks involved in human rights work and research; or network 🙂
Reminder: Reclaim the Night March
Thursday 27th November 2014, Starting at Botanic Gardens 6:15PM
I mentioned this in a previous newsletter, but it's worth bearing in mind.
This year's march will take place on Thursday 27th November (that's the day after Jamnesty!) with assembly at 6:15 PM outside Botanic Gardens on Great Western Road (opposite Oran Mor).
You can see photos from last year's march which we took part in after a Tuesday meeting.
Thanks for Reading
Given the news this week, I thought the following image would be appropriate:
1
For the first time, humanity has landed a robot on a comet. We have automated robots on the surface of Mars – Opportunity has been going for over ten years at this point – and now we have a robot on a comet. We may see a lot of terrible, desperate things as an Amnesty International group, but the way I see it is this is one of the things that makes you proud to be a human. Nice work, ESA.
Get in Touch
If you have any questions, suggestions or feedback you can always get in touch either via the website or on Facebook or Twitter.
Tags: Coalition for Syrian Refugees, flyering, food banks, gig, iww, jamnesty, newsletter, poster, reclaim the night, social, spb, syria
1 Comment »

Hello everyone! I hope you all enjoyed the first week of term and the Freshers' Flu is beginning to wear off. There's a lot of exciting things that have been happening, are happening and will be happening, so read on!
Welcome to All Our New Members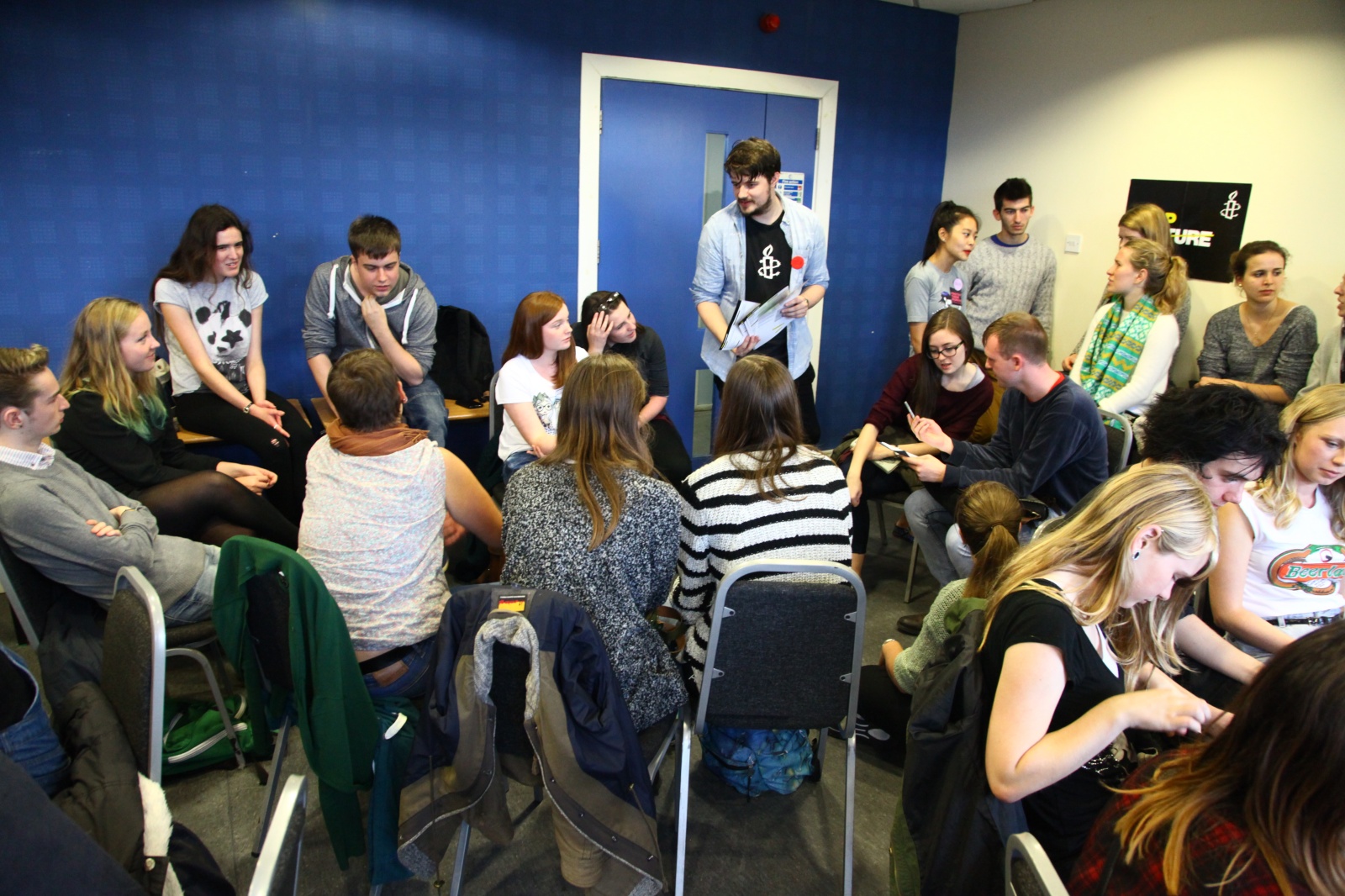 I'd like to start by saying thanks to everyone for coming along last week. It was great to see such a big crowd! It's even more exciting that so many of the people I spoke to had specific areas or ideas that they were interested in. But whether you have a burning passion for a particular area, a general desire to help out or even if you weren't able to make the first meeting it's great to have you on board and there will be plenty going on to capture your imagination. I hope you all enjoy the ride.
It sounds like there was some good discussion too; and I'd like to say thanks to everyone who took part in the CFCI action. We'll be sending off the photos along with the signatures when the petition goes off to court for consideration next month.
If you weren't able to make it, no worries- feel free to have a look at the presentation for last week's meeting (warning: speakers notes in the PDF may bear no relation to what I actually said) and do join us at 5PM this Tuesday!
This Week's Meeting: Campaign Decisions
Tuesday 30th September, QMU Committee Room 1
This week we are going to be deciding what campaigns we want to prioritise. I've said before that collective decisions are a really important part of the group, and campaigns are a good example of this.
Campaigns are central to our work, they form the core of what we do. It's important that members feel invested in what we're focusing on, and that they are subjects that people are interested in – although I'm sure everyone would be interested in any human rights campaign!
So we all get an equal vote in the campaigns. If there are issues that you feel passionately about – from chatting to folk last week it seemed like a few were – it would be great if you shared your thoughts with us on Tuesday when we talk about the different options in groups.
Elections for Ordinary Board
Tuesday 7th October, QMU Committee Room 1
Remember remember, the… seventh of October. A week on Tuesday we'll be holding elections for the position of two ordinary board members. This is a committee role which will really let you get your hands on organising things behind the scenes at GU Amnesty.
All you need to do in advance is have a short speech in mind; anywhere from 30 seconds to a minute to tell us who you are, what you do and why you think you should get the position. We're all friendly so don't stress about speaking to us! Even if you are not elected onto the committee there may be other roles which would pique your interested, so don't be disheartened- we'd still love to have your input 🙂
Campaign Success: LGBT Rights and the IOC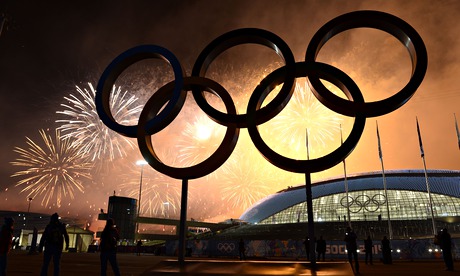 This week we got word that the IOC had updated its position on discrimination, which is excellent news! We're proud to have played a part in this. From our hugely successful cross-union LGBT rights photo campaign to the pressure we also put on the Olympic sponsor Coca-cola in our poster which was part of our officially-supported and rather impressive Change.org petition, we stood up for these human rights.
It's important to keep these victories in mind when choosing the campaigns this Tuesday and in the weeks beyond; we can make a difference. Never forget that 🙂
Raise Off Success
Last week I mentioned the Raise-Off, the UK student group competition to funraise and campaign for AIUK. Well, although Exeter won the prize for raising the most money overall – congratulations to them – once again our Secret Policeman's Ball won the award for Best Fundraising Event! I've now lost count of the number of awards it's won. It is a true reflection of the hard work and organisation put in by the SPB subcommittee, headed up by our VP Debbie White last year, the members and Billy Kirkwood. The night just wouldn't happen otherwise- which would be a shame as it's a damn fine event.
If you're interested in getting involved this year, either contact us or mention it to me or Duncan or any of the rest of the committee at the meeting this week. We'll get a group together and have a chat about what we're going to do this year, and you can find out if it's for you!
Congratulations to everyone who was involved in the SPB last year, you all deserve this award 🙂
Coalition for Syrian Refugees Update
Last week GU Amnesty and representatives from other groups (Oxfam, STAR (now GRASS), UNICEF) met to update and plan what we can do to raise funds for and awareness of the difficult situation that Syrian Refugees find themselves in. We have made tentative plans for a 'Syrian Week' of informational and fundraising events early in the second semester (January 26th – February 1st).
We plan to meet again, and so if you are interested in what is going on in Syria and/or would like to be involved please contact us and let us know so that we can get you up-to-speed and added to the Facebook group.
Because of the (understatement alert) complex nature of the situation in Syria, the coalition intends to remain apolitical; one of the main areas of focus for GU Amnesty last year was the human rights situation and this continues to be the case. If you have any questions or concerns relating to CSR, please do get in touch and we'll try and clarify.
Other Events and Information
Academics at Risk
Monday 6th October, 3-6PM, Glasgow University Concert Hall
There is an event which may be of interest put on by GU Settlement to inform people about the work of CARA:
The University of Glasgow, with assistance from GU Settlement, is hosting a CARA (The Council for At-Risk Academics) awareness raising event.

The Council for At-Risk Academics (CARA) has provided protection and support to refugee and 'at risk' academics for over 80 years. The defence of academic freedom continues to underpin CARA's work assisting academics who, for reasons of persecution and conflict, are unable to continue their research in their countries of origin.

The event will be chaired by Prof John Briggs (Vice Principal and GU Refugee Champion) and Prof Alison Phipps (GU CARA Rep/ GRAMNet).

A representative from GU Archives will discuss the historical role that the University has played in supporting dispossessed and displaced people and there will also be the opportunity for round table and informal discussion.
Cinema ho! GU Amnesty Goes to see Pride
Not an event as such but given our group interests, some of us were thinking going along to see the Film Pride at Cineworld on Thursday evening. It comes highly-regarded, so it should be a good trip and a chance for another informal social. Grab a bag of popcorn and come along.
Facebook event: https://www.facebook.com/events/566709056790636/
Get in Touch
This newsletter's 'I read all the way though' reward is a cool thing that came up in conversation this week: a Prince Rupert's Drop. This are drops of glass with a thick end and a thin end: hammer on the thick end and you won't do a thing. Snap a tiny bit of the thin end off and the glass explodes. I'll let the video do the rest of the talking:
(link for those reading in email form: https://www.youtube.com/watch?v=xe-f4gokRBs#t=122)
If you have any questions, suggestions or feedback you can always get in touch either via the website or on Facebook or Twitter.
Tags: cfci, ioc, lgbt, newsletter, petition, social
2 Comments »

Wow, what a week! A most warm welcome to folks new to the newsletter and the group, and thanks to everyone who came by the Freshers' stall and those who took part in the CFCI petition- it was very heartening to hear from so many keen people! Thanks to all the people who helped with the stall too, you rock.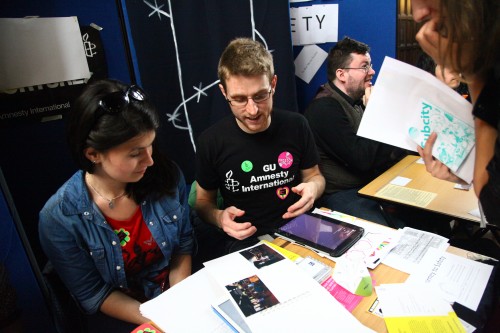 So as a busy Freshers' Week 2014 draws to a close, it's time for me to make good on the promises made at the stall and to give details of the first meeting of 2014-15 and some information on what's coming up in the next few weeks. I'll try and keep this first newsletter of term short!
Tuesday 23 September: First Meeting (and Social) – Who are GU Amnesty?
5PM, QMU Committee Room 1 (3rd floor)
Our first meeting of the year! Come along at 5PM to the Queen Margaret Union on University Gardens (just at the bend), then take the lift or the stairs (both straight ahead of you as you come in the door) up to the third floor, turn left and enter the first room on the right and you'll find us there. We are fairly laid back, so if you cannot make it for 5 or have to leave early that's quite alright.
Just a heads up: we expect this meeting to be quite busy. Given the number of signups we had in the Fresher's Fair we tried to book an extra room in the QM, but they were full. Please bear with us and if it is packed we do apologise; we will try to get another room for next week if this is the case.
We'll be doing a proper introduction to GU Amnesty – who the committee are, what we do, and what's coming up in the next few weeks. Because we'll be chatting about who we are and what we do at the meeting I won't go into much detail in this newsletter, so on Tuesday you don't get a repeat of what I've said. If you can't make the meeting, the presentation I'll be showing will be uploaded so you can peruse it at your leisure. Since there will probably be some questions at the meeting I'll try and address those on here too. In the meantime though, you can find a comment I wrote about what a 'typical meeting' is on the website if you want to get a heads-up.
If you aren't sure of how to find where we're meeting or have any other questions, please either email us or ask on Facebook or Twitter.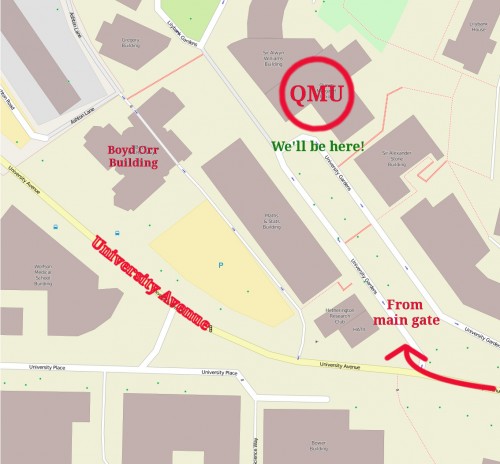 Welcome to GU Amnesty – First Social @ Old Schoolhouse!
Tuesday 23rd September, 6:30/7 PM, Old Schoolhouse, Woodlands Road
Following on from the first meeting will be our first social of the year. We'll walk down after the meeting, but you are welcome to join us straight there if you can't make the meeting. If you don't know it, the Old Schoolhouse is on Woodlands Road just at the roundabout, across from the St Andrews building.
Come along for a bit and say hi! One of things our members talk about is how good it is to hang out with Amnesty folks, and this is a great opportunity to do it. It's also good to know the folks who will be be turning up to meetings, demonstrations and events.
The Old Schoolhouse also does food if you're feeling peckish by then!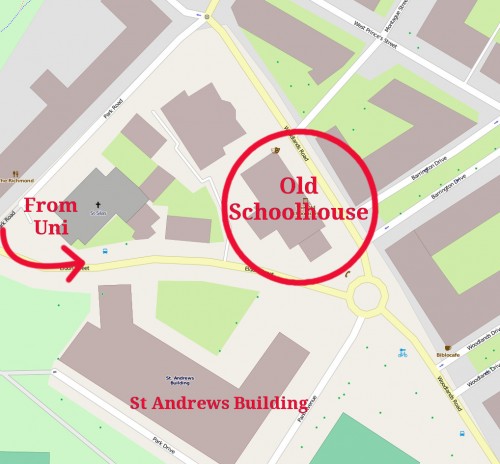 Upcoming Events and Information
Election of Ordinary Board Members
Tuesday 7th October
I'll talk a bit more about this at the meeting, but we will be electing ordinary board members in a few weeks time on 7th October. Have a think about if you want to stand for a position (there are two OB positions available), as you'll be expected to say briefly why people should vote for you. Don't stress though, everyone is friendly!
It's a position with a flexible role, meaning you can get out of it what you want from it; and it's good way to be more closely involved in the minutia of actually running the society. If you're considering it but not sure and it all seems a bit nebulous don't worry, there are a couple of weeks in which to make up your mind and well get a previous ordinary board to explain what's involved.
Activist Mixer (Tomorrow/Sunday)!
Sunday 21st September, 5PM onwards, Curler's Rest Byres Road
Short notice and reminder! There is an activist mixer on Sunday 21st September in Curler's Rest on Byres Road (by the subway). Invitations have gone out to a number of activist groups on campus, so there will be a mix of different groups doing good work. It's a great opportunity to find out about what other societies are doing, and to network; we as a group tend to work with a number of familiar faces so it's useful to meet these good folks. Come along for a bit if you're passing and say hi.
Next Week (Tuesday 30th September)
After the introductions this week we'll be looking at campaigns on 30th. This will involve chatting about campaign suggestions and voting on what ones we want to prioritise. More details in next week's newsletter!
For those of you who made it this far, reward yourself by watching a video of some goats balancing on a wobbling sheet of metal:

(link for those reading this in email form: https://www.youtube.com/watch?v=58-atNakMWw)
Goats are awesome.
Get in Touch
If you have any questions, suggestions or feedback you can always get in touch either via the website or on Facebook or Twitter.
Tags: campaigns, first meeting, freshers, newsletter, social
No Comments »

We're back! September has arrived and the new term is nearly upon us. This is a busy time for everyone and a really important time for us with new members and a whole bunch of events to kick off the new academic year.
Freshers' Week
15-21 September 2014
Freshers' week is one of the most important parts of the year for us- chances are high if you're reading this that you've at least wandered by our stall during Freshers Week one September! If you've an hour to spare (or more), please come along– it's a great way to meet the new faces who'll be coming along this year and would really help us out. Get in touch with us either via email, Facebook or Twitter; or if you prefer you can fill in the Doodle: http://doodle.com/65zgchrx98mvgwun#table. Let us know, we'll really appreciate it. If you don't, well: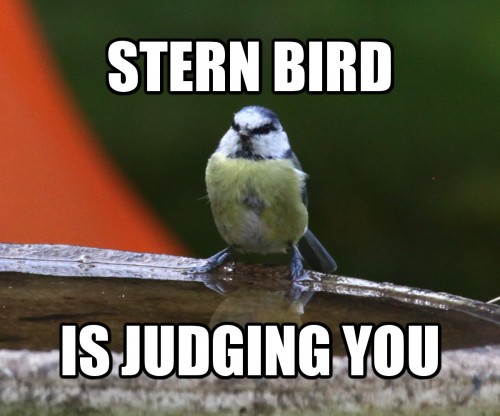 But if you are able to lend a hand, then: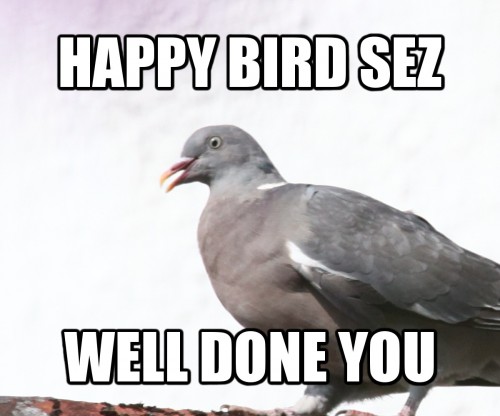 Avian persuasions aside1, if you can come along that would be great and we'd love to see you there.
The Freshers' Fair Stall
16-17 September, 10-4, Randolph Hall
We have booked a stall which will be in Randolph Hall on Tuesday 16th and Wednesday 17th September from 10 AM to 4PM. Wearing our best smiles we'll be chatting to Freshers about what we do, our meetings and events, and generally looking like the society that everybody wants to join.
Collaboration with STAR & CB – 'Journey to Safety'
Wednesday 17th September, 3-6 PM, Body Orr Building Room 213
One of the other things we'll be helping with is a very exciting workshop on the asylum seeker process organised by STAR over the course of a few hours on Wednesday afternoon 3-6 in the Boyd Orr Building (room 213). It's a really good way to get a quick feel for the process; it's be done in previous years and extremely well-received. STAR Glasgow and Crossing Borders will be taking people through the stages.
If you'd like to come along and take part I'm certain you'd find it a useful and positive experience. Or if you'd like to help out we could use folks to take people from one station to another (no prep work needed- script you can read from provided!) that would be really helpful. Let us know as mentioned above.
Activist Mixer/Social
Sunday 21st September, Curler's Rest, 5 PM onwards
Thanks again to Kit of STAR, there is an activist mixer on Sunday 21st September in Curler's Rest on Byres Road (by the subway). Invitations have gone out to a number of activist groups on campus, so there will be a mix of different groups doing good work. It's a great opportunity to find out about what other societies are doing, and to network; we as a group tend to work with a number of familiar faces so it's useful to meet these good folks. Come along for a bit if you're passing and say hi.
(Provisional) Activism Talk
Thursday 18th September, Afternoon
Although this is provisional, we are hoping to do a talk on activism on the afternoon of 18th of September. We're discussing with the SRC what we can do, it would be good to see some familiar faces in the crowd if it does go ahead. Keep an eye on the website, Facebook or Twitter for updates on time and venue.
First Meeting of 2014-15!
Tuesday 23rd September, 5PM, QMU
Fun! Excitement! Presentations!
We'll be kicking off the academic year with our first meeting on Tuesday 23rd September in the QMU at 5PM. We'll be giving an overview of what we do for new members, introducing the committee and giving information about upcoming campaigns, events- which includes the election of two ordinary board members. This is a committee position which gives even greater opportunity to be involved in the planning and direction of GU Amnesty.
First Social of 2014-15
Tuesday 23rd September, 7PM onwards, The Old Schoolhouse, Woodlands Avenue
Following on from our first meeting we will be having our first social. This will be held at The Old Schoolhouse in Woodlands Road after the first meeting (roughly 7PM). If you don't know where it is, don't worry, it's close by and we'll walk you there. It's a really good way to get to know folks – invariably the members of GU Amnesty are great folk to hang out with as well as outstanding campaigners!
Other Upcoming Events and Info
We already have a number of exciting things planned for Freshers' Week and our first campaign, but there are plenty of other things going on which you might be interested in.
GHRN Events and Bulletin Information
If you haven't heard of it, you should check out the Glasgow Human Rights Network.
The Glasgow Human Rights Network aims to bring together researchers, practitioners,
members of civil society organisations and policymakers who address human rights issues.
Their events can be very informative for those looking to go a bit deeper into human rights issues, especially those that see themselves either working, pursuing further education or researching in the field.
The latest bulletin had too many events to list here, but if you are interested you can find details on how to subscribe to their website, linked above. If there's any difficulties finding the details, please get in touch with us and we'll help you out.
I Am Troy Davis Community Book Club
21st September-10th October 2014
On September 21, 2011, the State of Georgia put Troy Davis to death despite a compelling case of innocence. To mark the 3-year anniversary of this travest9thy of justice, and to deepen and widen the discourse about the human impact of the death penalty and criminal justice system, we invite you to participate in a worldwide Community Book Club between September 21 and October 10, World Day Against the Death Penalty. Through hundreds of intimate gatherings across the country and the world, Troy's story will reach and impact thousands of new people.
The case of Troy Davis is one we've campaigned on in the past, and it continues to be a focal point in the case for the abolition of the death penalty. If you're interested, please take the time to have a look at I Am Tro Davis and the Community Bookclub. The death penalty is a campaign we will return to in October. If you're interested in more information or the book please contact our campaigns manager Alex or the good folks at I Am Troy Davis above.
Scottish Mental Health Arts & Film Festival
1-19 October 2014
There's a film being screened on 9th October, the UK premiere of Beneath the Blindfold telling the stories of four torture survivors. As a heads-up, we have a death penalty-related event putatively pencilled in for the same day, but details will follow and it may be of interest.
Get in Touch
There's lots on in the coming week or two, and even more beyond but this newsletter has to end somewhere! There will be more coming next week, and every week after that. Well done for making it to the end this time. Your picture rewards are the two birds included above.
If you have any questions, suggestions or feedback you can always get in touch either via the website or on Facebook or Twitter.
---
Photos taken in my back garden this week. ↩
Tags: death penalty, film screening, freshers week, ghrn, meeting, mental health, newsletter, social, troy davis
No Comments »

Afternoon all,
Tuesday was our last society meeting of the year, and I hope you enjoyed the presentation by Jillian from Aberlour's Guardianship Service. Thank you everyone for your feedback, I am excited to say that 'Amneslunch' was voted a great idea so we will organise this for during the exam period! See below for more information.
Although we are having an end of term social, we still have other events and fundraisers planned for May so don't think this is the last you will hear from us!
Next meeting: Tuesday 25th March – AGM and End of Term Social!
5pm, QMU – AGM
Earlier this week I published the committee positions with a short description of the roles, written by the current committee. If you are thinking or running at the AGM, have a look at the different roles and feel free to contact us for any more information.
Even if you are not standing for election, please come and vote!
Meeting format:
I will begin by going over our constitution as we have updated some important bits. The society needs to vote on these before we can make these changes.
Next, I will talk about all the wonderful things we have achieved this year, as part of the end of year review, and then our Treasurer, Duncan, will talk us through the financial report for this academic session.
Then the elections will start! Everyone who is running for a place will be invited to speak – the way we do it is by asking all candidates to leave the room and enter one at a time and give a short speech (2 mins max) on why they would like to be elected. It's entirely up to you how you want to prepare, but it can be useful to write down a few things to guide yourself.
7pm, Lansdowne Bar & Kitchen – Social
Join the event to let us know that you are coming!
Straight after the elections, we will head out for some food and drinks to celebrate the fantastic year that we have had. Absolutely everyone is welcome, including those who aren't coming to the AGM or who never made it to a meeting but want to join next year. The event page has a map for those of you joining us later, otherwise we will all head together from the QMU.
May: Amneslunch!
During exam period we do not have society meetings, but we felt that it would be extreme to have no Amnesty contact throughout this incredibly stressful time. So, we are going to organise a lunch club, based in the Fraser Building most likely, where you can drop by, have some lunch, let of some steam and there will also be resources for writing letters. This has been quite a neglected campaigning action this year, so it would be great to follow up some of our campaigns with a little pen action.
When we have decided the dates and times, we will make an event and keep you updated.
End of Term Fundraisers
We still have some fundraisers coming up, including the ceilidh which had to be postponed and Amnestea in the Park (we really can't get enough puns). So for those of you who will be here mid-late May, we hope to see you at these events!
Also, if you would like to sponsor us for climbing Goatfell next weekend, that would be much appreciated. Here is our JustGiving page: http://www.justgiving.com/Glasgow-University-Amnesty-International
Other events:
Wednesday 26th March: Unite the Fight Clubnight, The Buff Club
This clubnight will be raising money for Glasgow Women's Aid, and it's only £3 entry. Here's the event page and here's more about the charity.
I will keep the newsletters going until the end of term, so if you know of any events that we can promote then please let me know. I will mainly be sending out information about Amnesty's campaigns with petition links for some easy online activism and revision procrastination.
Hope to see you all on Tuesday,
Ruth
Tags: agm, Amneslunch, social
No Comments »

Hello hello, sorry this is late!
I know this a very busy time for everyone so I'll keep it brief! Remember – there will be no meeting on Tuesday.
Last week of Women's Rights
I think last week's film was a great choice, and thanks to Cate who pointed out that there are follow-up actions to take on the website. So if you are taking a revision break, you can sign a petition to world leaders demanding an end to 'gendercide' in India.
December's Fundraiser: Carol Singing!
This is happening TOMORROW (Monday) so hopefully if you wanted to take part you are in the planning group. If not, then you can still come along! We are meeting outside Hillhead Subway station at 12noon and I will have song sheets; don't think we actually expected you to remember all the verses to Good King Wenceslas.
Human Rights Day/Winter Social!
On Tuesday we are having a social instead of a meeting and hope to see as many of you as possible. Join the event if you are coming and if you are not sure then don't worry, we have reserved extra seating to cover 'maybes'. If you have exams, let this be your study break! We will be gathering from 6pm onward and you can pop along for as long or as short a time as you want.
For those of you with exams, GOOD LUCK !!
Ruth
Tags: carol singing, fundraising, Human Rights Day, petition, social, women's rights
No Comments »
Hello!
A warm welcome to Glasgow for all the Freshers and a warm welcome back to everyone else.
As you have expressed an interest in the GU Amnesty International group this email is just to let you know that our first meeting will be:
Tuesday the 21st at 5 o'clock in Committee room 1 at the top of the QMU (3rd floor).
Committee room 1 is at the very top of the building and can be accessed either by taking the lift to the top floor or the stair case on the left hand side of the Food Factory, turning left, going through the double doors then committee room 1 is the first room on the right, (don't worry, a few of us will be lingering downstairs to show you were to go)
The meeting will be an introduction to what we do, what we have done and what we plan to do in the coming year with pretty pictures . There will also be a chance to partake in our ongoing Burma campaign and ask any burning questions you might have, but most importantly there will be cake & biscuits. Ding!
Immediately after the meeting at 6 o'clock we have our first social in Curlers Rest on Byres road (next to Hillhead underground station). We can all head down straight after the meeting, the idea to just generally be social and use it as yet another chance to chat to Amnesty members new and old!
If you can't make it this Tuesday then please come along next Tuesday or any Tuesday thereafter, meetings are always Tuesdays, 5pm, committee room 1, QMU. Also check out all our online networking at:
www.guamesty.org.uk
www.facebook.com – GU Amnesty International
http://twitter.com/GUAmnesty
So come along for some human rights based edu-tainment 😉
Best wishes,
The GU Amnesty International Fresher's team and committee.
Tags: freshers, meeting, social
No Comments »
Hello to everyone past, present and future!
First of all thank you to everyone who showed an interest in Amnesty International and put down their e-mail addresses over the past week. I'm sure all of your inboxes are jammed with clubs and socities inviting you to one thing or another so i will try to keep this short!
Our first meeting of the year will take place tomorrow, Tuesday 22nd of September, 5pm, in committee room 1 in the QMU. (Head up to the 3rd floor, turn left and it is the first room on the right, should be clearly signed.) The meeting will be an introduction to who we are and what we do so please do come along, even if you are not sure what amnesty does, this is your chance to come and see! The meeting is an open event so please, also, feel free to bring along any friends.
Tomorrow is also going to see in our first social of the year, a chance for people to meet, chat and generally get to know each other. It shall be starting from 8pm in the Halt Bar (follow this link for directions) and we hope to see as many of you there as possible, again an open event 🙂
Thank you very much.
Look forward to meeting you all,
Megan,
GUAI Secretary.
Tags: meeting, social
No Comments »