We're back! September has arrived and the new term is nearly upon us. This is a busy time for everyone and a really important time for us with new members and a whole bunch of events to kick off the new academic year.
Freshers' Week
15-21 September 2014
Freshers' week is one of the most important parts of the year for us- chances are high if you're reading this that you've at least wandered by our stall during Freshers Week one September! If you've an hour to spare (or more), please come along– it's a great way to meet the new faces who'll be coming along this year and would really help us out. Get in touch with us either via email, Facebook or Twitter; or if you prefer you can fill in the Doodle: http://doodle.com/65zgchrx98mvgwun#table. Let us know, we'll really appreciate it. If you don't, well: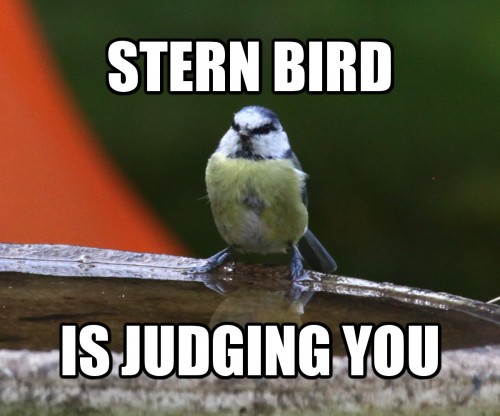 But if you are able to lend a hand, then: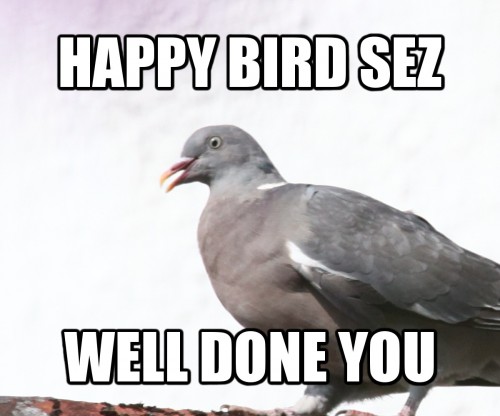 Avian persuasions aside1, if you can come along that would be great and we'd love to see you there.
The Freshers' Fair Stall
16-17 September, 10-4, Randolph Hall
We have booked a stall which will be in Randolph Hall on Tuesday 16th and Wednesday 17th September from 10 AM to 4PM. Wearing our best smiles we'll be chatting to Freshers about what we do, our meetings and events, and generally looking like the society that everybody wants to join.
Collaboration with STAR & CB – 'Journey to Safety'
Wednesday 17th September, 3-6 PM, Body Orr Building Room 213
One of the other things we'll be helping with is a very exciting workshop on the asylum seeker process organised by STAR over the course of a few hours on Wednesday afternoon 3-6 in the Boyd Orr Building (room 213). It's a really good way to get a quick feel for the process; it's be done in previous years and extremely well-received. STAR Glasgow and Crossing Borders will be taking people through the stages.
If you'd like to come along and take part I'm certain you'd find it a useful and positive experience. Or if you'd like to help out we could use folks to take people from one station to another (no prep work needed- script you can read from provided!) that would be really helpful. Let us know as mentioned above.
Activist Mixer/Social
Sunday 21st September, Curler's Rest, 5 PM onwards
Thanks again to Kit of STAR, there is an activist mixer on Sunday 21st September in Curler's Rest on Byres Road (by the subway). Invitations have gone out to a number of activist groups on campus, so there will be a mix of different groups doing good work. It's a great opportunity to find out about what other societies are doing, and to network; we as a group tend to work with a number of familiar faces so it's useful to meet these good folks. Come along for a bit if you're passing and say hi.
(Provisional) Activism Talk
Thursday 18th September, Afternoon
Although this is provisional, we are hoping to do a talk on activism on the afternoon of 18th of September. We're discussing with the SRC what we can do, it would be good to see some familiar faces in the crowd if it does go ahead. Keep an eye on the website, Facebook or Twitter for updates on time and venue.
First Meeting of 2014-15!
Tuesday 23rd September, 5PM, QMU
Fun! Excitement! Presentations!
We'll be kicking off the academic year with our first meeting on Tuesday 23rd September in the QMU at 5PM. We'll be giving an overview of what we do for new members, introducing the committee and giving information about upcoming campaigns, events- which includes the election of two ordinary board members. This is a committee position which gives even greater opportunity to be involved in the planning and direction of GU Amnesty.
First Social of 2014-15
Tuesday 23rd September, 7PM onwards, The Old Schoolhouse, Woodlands Avenue
Following on from our first meeting we will be having our first social. This will be held at The Old Schoolhouse in Woodlands Road after the first meeting (roughly 7PM). If you don't know where it is, don't worry, it's close by and we'll walk you there. It's a really good way to get to know folks – invariably the members of GU Amnesty are great folk to hang out with as well as outstanding campaigners!
Other Upcoming Events and Info
We already have a number of exciting things planned for Freshers' Week and our first campaign, but there are plenty of other things going on which you might be interested in.
GHRN Events and Bulletin Information
If you haven't heard of it, you should check out the Glasgow Human Rights Network.
The Glasgow Human Rights Network aims to bring together researchers, practitioners,
members of civil society organisations and policymakers who address human rights issues.
Their events can be very informative for those looking to go a bit deeper into human rights issues, especially those that see themselves either working, pursuing further education or researching in the field.
The latest bulletin had too many events to list here, but if you are interested you can find details on how to subscribe to their website, linked above. If there's any difficulties finding the details, please get in touch with us and we'll help you out.
I Am Troy Davis Community Book Club
21st September-10th October 2014
On September 21, 2011, the State of Georgia put Troy Davis to death despite a compelling case of innocence. To mark the 3-year anniversary of this travest9thy of justice, and to deepen and widen the discourse about the human impact of the death penalty and criminal justice system, we invite you to participate in a worldwide Community Book Club between September 21 and October 10, World Day Against the Death Penalty. Through hundreds of intimate gatherings across the country and the world, Troy's story will reach and impact thousands of new people.
The case of Troy Davis is one we've campaigned on in the past, and it continues to be a focal point in the case for the abolition of the death penalty. If you're interested, please take the time to have a look at I Am Tro Davis and the Community Bookclub. The death penalty is a campaign we will return to in October. If you're interested in more information or the book please contact our campaigns manager Alex or the good folks at I Am Troy Davis above.
Scottish Mental Health Arts & Film Festival
1-19 October 2014
There's a film being screened on 9th October, the UK premiere of Beneath the Blindfold telling the stories of four torture survivors. As a heads-up, we have a death penalty-related event putatively pencilled in for the same day, but details will follow and it may be of interest.
Get in Touch
There's lots on in the coming week or two, and even more beyond but this newsletter has to end somewhere! There will be more coming next week, and every week after that. Well done for making it to the end this time. Your picture rewards are the two birds included above.
If you have any questions, suggestions or feedback you can always get in touch either via the website or on Facebook or Twitter.
---
Photos taken in my back garden this week. ↩