Newsletter 2014-09-20: Welcome to GU Amnesty!
September 21, 2014 in cfci, information, main, meetings, newsletter by Rob Hallam
Wow, what a week! A most warm welcome to folks new to the newsletter and the group, and thanks to everyone who came by the Freshers' stall and those who took part in the CFCI petition- it was very heartening to hear from so many keen people! Thanks to all the people who helped with the stall too, you rock.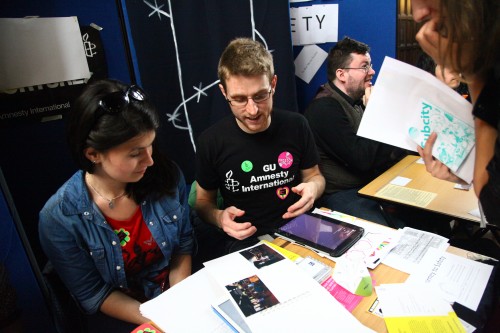 So as a busy Freshers' Week 2014 draws to a close, it's time for me to make good on the promises made at the stall and to give details of the first meeting of 2014-15 and some information on what's coming up in the next few weeks. I'll try and keep this first newsletter of term short!
Tuesday 23 September: First Meeting (and Social) – Who are GU Amnesty?
5PM, QMU Committee Room 1 (3rd floor)
Our first meeting of the year! Come along at 5PM to the Queen Margaret Union on University Gardens (just at the bend), then take the lift or the stairs (both straight ahead of you as you come in the door) up to the third floor, turn left and enter the first room on the right and you'll find us there. We are fairly laid back, so if you cannot make it for 5 or have to leave early that's quite alright.
Just a heads up: we expect this meeting to be quite busy. Given the number of signups we had in the Fresher's Fair we tried to book an extra room in the QM, but they were full. Please bear with us and if it is packed we do apologise; we will try to get another room for next week if this is the case.
We'll be doing a proper introduction to GU Amnesty – who the committee are, what we do, and what's coming up in the next few weeks. Because we'll be chatting about who we are and what we do at the meeting I won't go into much detail in this newsletter, so on Tuesday you don't get a repeat of what I've said. If you can't make the meeting, the presentation I'll be showing will be uploaded so you can peruse it at your leisure. Since there will probably be some questions at the meeting I'll try and address those on here too. In the meantime though, you can find a comment I wrote about what a 'typical meeting' is on the website if you want to get a heads-up.
If you aren't sure of how to find where we're meeting or have any other questions, please either email us or ask on Facebook or Twitter.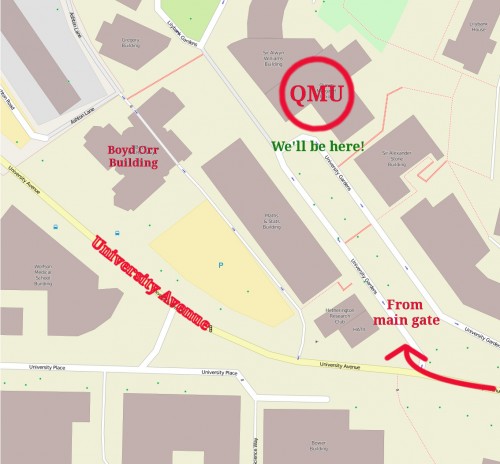 Welcome to GU Amnesty – First Social @ Old Schoolhouse!
Tuesday 23rd September, 6:30/7 PM, Old Schoolhouse, Woodlands Road
Following on from the first meeting will be our first social of the year. We'll walk down after the meeting, but you are welcome to join us straight there if you can't make the meeting. If you don't know it, the Old Schoolhouse is on Woodlands Road just at the roundabout, across from the St Andrews building.
Come along for a bit and say hi! One of things our members talk about is how good it is to hang out with Amnesty folks, and this is a great opportunity to do it. It's also good to know the folks who will be be turning up to meetings, demonstrations and events.
The Old Schoolhouse also does food if you're feeling peckish by then!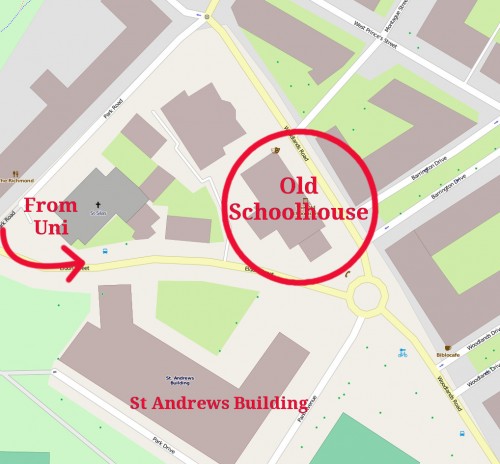 Upcoming Events and Information
Election of Ordinary Board Members
Tuesday 7th October
I'll talk a bit more about this at the meeting, but we will be electing ordinary board members in a few weeks time on 7th October. Have a think about if you want to stand for a position (there are two OB positions available), as you'll be expected to say briefly why people should vote for you. Don't stress though, everyone is friendly!
It's a position with a flexible role, meaning you can get out of it what you want from it; and it's good way to be more closely involved in the minutia of actually running the society. If you're considering it but not sure and it all seems a bit nebulous don't worry, there are a couple of weeks in which to make up your mind and well get a previous ordinary board to explain what's involved.
Activist Mixer (Tomorrow/Sunday)!
Sunday 21st September, 5PM onwards, Curler's Rest Byres Road
Short notice and reminder! There is an activist mixer on Sunday 21st September in Curler's Rest on Byres Road (by the subway). Invitations have gone out to a number of activist groups on campus, so there will be a mix of different groups doing good work. It's a great opportunity to find out about what other societies are doing, and to network; we as a group tend to work with a number of familiar faces so it's useful to meet these good folks. Come along for a bit if you're passing and say hi.
Next Week (Tuesday 30th September)
After the introductions this week we'll be looking at campaigns on 30th. This will involve chatting about campaign suggestions and voting on what ones we want to prioritise. More details in next week's newsletter!
For those of you who made it this far, reward yourself by watching a video of some goats balancing on a wobbling sheet of metal:

(link for those reading this in email form: https://www.youtube.com/watch?v=58-atNakMWw)
Goats are awesome.
Get in Touch
If you have any questions, suggestions or feedback you can always get in touch either via the website or on Facebook or Twitter.