You are browsing the Blog for stall.
Hi Amnestiers!
Hope you have all had a good start to your week.
This week's meeting
This week's meeting is on Tuesday (tomorrow!), at 5pm in QUDOS in the QMU. We'll be talking about the Arms Trade and taking a couple of actions, as well as continuing to prepare and plan the Secret Policeman's Ball.
Coming up
– THE SECRET POLICEMAN'S BALL 2012, Saturday 4th February, 7:30pm, £5: Our annual night of comedy is two and a half weeks away! The 5000 fliers (!) have arrived so the big job in the run-up to the event is to get rid of them! I'll distribute them among you at tomorrow's meeting. Here's the event page: http://www.facebook.com/events/195138300581324/
Tickets are also available here: http://www.wegottickets.com/event/150821
And you can also buy them at the QMU box office!
– Cake stall this Friday: We're running a cake stall on Friday to drum up some publicity for the Ball. We'll sort out a rota at the meeting tomorrow.
Ticket info: If you have a bunch of friends you want to sell tickets to you can grab some tomorrow. If you took some away last week and have money please bring it tomorrow or next week- thanks! We really rely on the enthusiasm of members to guarantee the success of the event, so keep plugging it to everyone you know!
See you tomorrow!
Catherine
Website: http://www.guamnesty.org.uk/
Twitter: http://twitter.com/guamnesty
Please join our Facebook group: http://www.facebook.com/groups/guamnesty/
Flickr: http://www.flickr.com/photos/guamnesty/
Hello GU Amnesty,
A few things for you attention.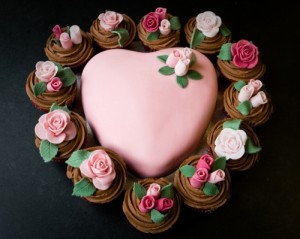 Valentine's Day Stall
Monday 14th February
* 11am – 2pm – I forgot to send round a rota on Tuesday so if you could get back to me with your availability for half an hour slots that will be much appreciated!
* Heart shaped cakes and love related crafts – Any artistic folk out there who fancy their hand at some valentines gifts 🙂
* I'll send round the rota by Sunday at the latest
Action For Change Weekend
Friday 11th – Saturday 12th March
http://www.amnesty.org.uk/content.asp?CategoryID=11169
Interested so far:
* Sophie
* Jessie
* Martin
* Jane
If you can get back to me to confirm then we can book the places up! Remember only 4 places so if anyone else is interested let me know asap!
Thank you and all the best,
Megan.
I was sent some more pictures of the stall, which include a close-up of our very own hand made cage + pipe cleaner figure. These may go on sale again in the future, but be sure to get there quickly when they do – they are very popular!
(click on the pictures for a larger image)
Cage close-up:

Another shot:

As you all should be aware, we recently had a stall to raise awareness of Guantánamo Bay being open for six years, and as part of the raise-off. The event involved distributing leaflets and giving out information on Guantánamo and unsubscribe; selling cakes and confectionary; and selling hand-made mini-cages (which were very popular!).
It also involved me (robert) and Jonny (see what we do) going down Byres Road to talk to people about it – and sell more cakes! The novel part was me being dressed in a bright orange jumpsuit and blindfolded for the journey. The response was surprisingly good, although Jonny informs me that a few people scattered when they saw us coming! Those that we talked to were very receptive, although perhaps they were a little perturbed by the blindfolded man casually chatting away about unsubscribe and Guantánamo. It was good fun though.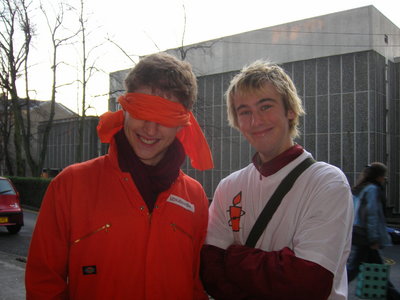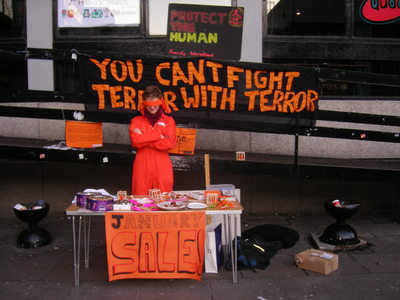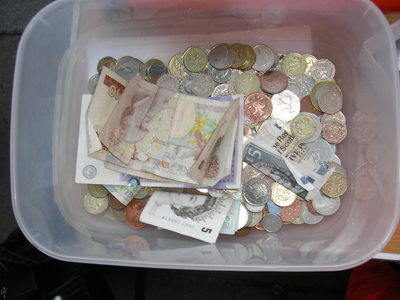 Thanks to everyone who took part in the stall and made it possible.