Blog
Search Results
Thanks to everyone who held the pink triangle for Lush's Sign of Love photo petition! A quick description from Lush's website:
We believe in love for everyone, between everyone. As part of our Sign of Love campaign, Lush are creating photo petition books which we will send to Russian embassies worldwide on the 14th February – the international day of love.
If you want to take part but didn't get a chance, see the link above or send us your photos and we'll pass them on to Lush.
Tags: love is a human right, lush, petition, photos, russia
No Comments »
Thanks to Sarah for the presentations and to Alex for talking us through the current situation. Great work to everyone who wrote a letter too- we have a big stack to send! Letters are really vital to the work the Amnesty International does, and every one counts.
Be sure to check out and share the #FergusonOctober photo petition photos from the meeting too!
Tags: Ferguson, meeting, photos, presentation
Comments Off on Meeting 5 – Ferguson (Photos)
Thanks to everyone who took part in the #CongoPeace photo petition this evening. For those that missed what it's about, I'll give you the explanation Georgia sent:
We have an exciting action planned for the whole of Feb. Its a social-media photo campaign with the hashtag #CongoPeace. It is aimed to culminate on the 6th of March with a special conference at the UN focusing on resource exploitation and sexual violence, where our photos will be handed to to Special Envoys Feingold and Robinson, U.N. Special Representative Zainab Bangura and U.S. Ambassador to the U.N. Samantha Power in a special book. Pretty incredible opportunity!!
If you didn't get a chance to take part but would like to, you can email us the images or tweet us them @guamnesty — remember to include #CongoPeace!
Edit: Special thanks to Katie who did as suggested above took the effort to send us in the photo she took herself!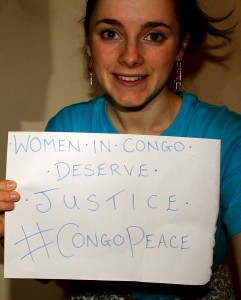 Tags: #congopeace, cfci, conflict minerals, congo
No Comments »
Thanks to everyone to came along and helped out, took part in our photo petition, or just came by the stall and said hello. 🙂

Tags: 2010, freshers, photos
No Comments »
Hey gang!
We're getting very close to two very exciting events, both happening this coming Saturday (21st). The first, during the day is the Scottish Student Conference. It's kicking off with registration at 10 for an 11 AM start, and we have more information and a programme to follow. That very same evening we've got the just as exciting, multi-award-winning Secret Policeman's Ball. Doors will be opening at 7 PM for the night of comedy; but if you can't join us for that you can still come along for the wonderful afterparty from 11 PM.
Tuesday 17th February 2015: Intro to Sri Lanka
5PM, Boyd Orr Lecture Theatre 222, Boyd Orr Building
Please note the change of venue- this week we are over in the Boyd Orr!
Although we are moving on to our Sri Lanka campaign that we collectively chose, we aren't leaving Transgender Rights behind completely (not that any campaign is quite left behind completely!). We will be compiling the questions the groups came up with last week into survey mentioned, which we hope to collaborate with LGBTQ+ on.
For the intro to our Sri Lanka campaign, we will be watching Killing Fields: War Crimes Unpunished (assuming we can get 4oD to cooperate!). It's not an easy watch and can be disturbing at times.
Thursday 19th February 2015: Bake Sale & SPB Promo
Thursday, Outside the QMU
Calling all bakers! Have your rolling pins ready for our bake sale this week. Because of the dual nature of sales and promotion of this one, we could really use all hands on deck. The more tasty treats we have, I reckon the more likely will feel inclined to come along to the Secret Policeman's Ball. We have a baking doodle, which is to indicate if you can make something for the stall– not necessarily to be there selling on the day! So, doo the doodle: http://doodle.com/74r7cc7mudgsqahs#table.
There will also be a Doodle for those equally-awesome folks who are able to come along on the day to sell and promote the SPB, so keep an eye on our Facebook page and group for that. Anyone who is able to help out by baking or selling or both will have a special place in my heart!
Saturday 21st February 2015: Scottish Student Conference & Secret Policeman's Ball
The time is upon us at last! Months in the planning. Lots of dedicated volunteers making them happen. Anticipation is high. It's going to be a great weekend folks, I hope you're all ready.
First up, we have:
Scottish Student Conference @ QMU
11-4, Committee Rooms, QMU
We're kicking things off with registration from 10 AM on Saturday morning. After that we'll have opening statements, followed by a plenary on Scotland's Role on the World Stage. Thereafter we have a workshop on Forming a Partnership with AIUK's Scottish office, which will deal with how we work with both the Scottish office and other student groups. After lunch we will have a plenary on El Salvador's Ban on Abortion, which will be an excellent talk in view of International Women's Week coming up at the start of March. Our next workshop will be on Campaigning and Funraising, where groups can share their experiences of what works well (and what doesn't!) on campus. After that we will have closing remarks, and then on to the SPB!
Skip the lie-in and come along on Saturday morning as it promises to be an informative day!
Secret Policeman's Ball @ QUDOS
Doors 7 PM
Our wonderful SPB! I'm so looking forward to this.
I'll let the event page do the talking:
GU Amnesty International's multi-award winning comedy night, 'The Secret Policeman's Ball' is back for its 7th year and is as big as ever. Hosted by the fantastic Billy Kirkwood and featuring a line-up of stand up, sketch and a little bit of magic that is sure to have you in stitches. This will be followed by afterparty, hosted yet again by the ever-rising Philanthrobeats but this time featuring some other top talent to take you through til 2!

Line-up includes:

The Colour Ham – an ingenious and quite frankly absurd group of comics that are the latest big name on the UK comedy scene.
Gareth Waugh – an Edinburgh Festival regular known for his quick witted and self-depreciating sets is definitely one to look out for in the future
JD Brown – Winner of this years 'Vespbar Virgins' 'Best New Comedy Act', and being touted for bigger things!
Also featuring Daisy Earl, Gary Faulds and G.L.A.S.S. (Glasgow Laughter and Sketch Society).
Super exciting! If you haven't already, you can buy your tickets online for a discount from the on-the-door fee.
SPB Afterparty @ JIM'S BAR
Doors 11 PM
What's a Secret Policeman's Ball without a Secret Policeman's Ball's Afterparty? Well, we have one!
Featuring the stylings of Janneman (from Philanthrobeats), Anphu & Bata and Wuh Oh. We'll see you at 11!
Whew, what a weekend! See you on Saturday!
Opportunity with Scottish Refugee Council – Closes Tomorrow!
As I mentioned at last week's meeting, we've had a note in from the [Scottish Refugee Council]((http://www.scottishrefugeecouncil.org.uk) about volunteering opportunities. These guys do some excellent work, and the chance to work with them in a voluntary role would be most rewarding.
There are six roles available in total and all the details can be found here: http://w.scottishrefugeecouncil.org.ukww/what_you_can_do/volunteer/roles

Two of the roles we would particularly like to emphasis are the Fundraising Events and Administration volunteer which involves undertaking a range of tasks, from filing and administration to events organisation and representing the organisation to potential supporters and members. The other role is Community Celebrations Volunteer and this role will provide administrative, marketing and organisational assistance in supporting the Community Celebrations programme and the participating community groups.

Detailed descriptions of both roles can be found here http://www.scottishrefugeecouncil.org.uk/what_you_can_do/volunteer/roles/fundraising_events_and_administration_volunteer and here http://www.scottishrefugeecouncil.org.uk/what_you_can_do/volunteer/roles/community_celebrations_volunteer. Details of how to apply and application forms can also be found on our website.

The closing date for applications is Wednesday 18 February, 2015 at 5pm. We are also holding a Volunteer Open Evening at our Glasgow office on Thursday 5 February, 2015 at 4:30-6:30pm. Come and meet our friendly team, and let us answer all your questions about volunteering at Scottish Refugee Council.
Quite an opportunity here, but the deadline is tomorrow, so get your skates on. If you're not sure about it, get in touch with our VP Duncan McNab, who works there!
Photos From Last Week's Meeting
You can see the full album here.
Thanks too to everyone who took part in our Trans Rights are Human Rights (#translivesmatter) photo petition.
Thanks For Reading
This week's bonus is the only one that's appropriate- photos from last year's SPB!
And of course the afterparty!
You can find more (including photos from previous years) on our Facebook page.
Get in Touch
If you have any questions, suggestions or feedback you can always get in touch either via the website or on Facebook or Twitter.
Tags: newsletter, spb, SRC, student conference, volunteering
No Comments »
Good morning/afternoon/evening! (delete as appropriate)
We are well underway with our Transgender Rights campaign- big thanks to Alex and Seb for their excellent and informative introduction last week. I'd also like to say thanks to those who get a letter written for John Jeanette Solstad Remø; these things do make a difference! If you didn't get a chance to write one or finish yours you can find the template on the Amnesty International campaigns section. We will be continuing with Transgender Rights this week by focusing more on the experience of transgender individuals in the UK and even closer to home (more on that later).
If you're on the Amnesty site for that, they also have some My Body, My Rights related things for Valentines Day; including a Poems That Make Grown Men Cry book, as endorsed by Sir Patrick Stewart and Stephen Fry (two of my favourite people):
If you're getting through to these two (and more), you're doing something very powerful.
In other – please forgive the pun – heartening news, Greater Maryhill Food Bank have raised over £15 000 in donations, which is amazing! Special mention to Frankie Boyle and the Scottish Government for donating £5000 each. From Julie:
"I know I live in a wonderful country, and a great city, so my expectations have always been high and people have never let me down. But I never expected this volume. It makes me proud to be a Glaswegian. Today is a day I will never forget after previously just wanting to walk away."
If you were among those who gave so generously, well done- you're amazing <3
Tuesday 10th February: Transgender Experiences & Photo Petition
Again please bring plastic bottles to Tuesday's meeting for SPB decorations- thanks in advance!
In a week where the First Minister has pledged to create an international envoy for LGBTI rights, we will continue to focus on the 'T'.
After last week's introduction and case of John Jeanette Solstad Remø, we will be looking at the experience of transgender individuals closer to home- in the UK and on campus. In Alex's pitch a couple of weeks ago he mentioned a couple of examples of changes that could and should be made on campus to make it a more trans-friendly place, and we would like to identify any other areas which need change. Our aim is to do a survey – hopefully in collaboration with GU LGBTQ+ – to help this process, so get your thinking caps on for that.
After the presentation and while the discussion of the survey is going on, we will be doing a photo action – 'Trans Rights Are Human Rights'.
Once we are finished with that, we will be doing some SPB decorations during the second half of the meeting (6PM onwards).
See you on Tuesday!
Secret Policeman's Ball Update
Saturday 21st February 2014, 7:30 PM, Qudos, QMU
Get buying!
You may also want to invite folks along to the event on Facebook so they can come along with you!
With less than two weeks to go (eep!) flyering has begun in earnest- good job to everyone on Friday who handed them out, we got some enthusiastic responses to go with the usual 'I'll just pretend that I don't hear you or see you waving a flyer at me'. It being a sunny day and the enthusiastic responses more than made up for that however!
If you would like to be involved in further flyering we would all – and Joe in particular – love you a lot, so do get in touch! We will also be doing some decorations in the near future so if that is something you're interested in please get involved in that too.
If nothing else then please have a look at our Thunderclap and sign up to support our publicity. If you have a Facebook / Twitter / Tumblr account you can help- they all count individually. We need to get 100 accounts within a week; and if we do they will all facebook/tweet/tumble simultaneously to publicise the SPB. It would be really useful if you could, and Joe would love you again!
Super excited!
Scottish Student Conference Update
Saturday 21st February 2014, Queen Margaret Union
Doodle for next (asap) meeting for those interested
We are getting the running order for the conference finalised (hopefully) at the start of this week- please indicate your availability in the Doodle if you would like to come along! With these in place, the conference will go ahead during the day of the 21st February in the QMU.
This is also really exciting 😀
Upcoming Events
Book Launch & Panel Discussion:
Human Rights Protection in Global Politics: Responsibilities of States and Non-State Actors
Wednesday 11th February 2015, 5.30pm, Yudowitz Lecture Theatre, Wolfson Medical School Building, University of Glasgow
This is happening this Wednesday and it looks interesting (not to mention featuring our friends Kurt Mills and Siobhan Reardon!) so you all may want to go along. More info:
This groundbreaking new book brings together political, legal and moral perspectives on the responsibilities of human rights protection in world politics today. In this panel discussion, the editors and some of the authors discuss their contributions and the main debates surrounding who has responsibilities to protect human rights, addressing state responsibility, the responsibility non-state actors, including corporations, and the emerging responsibility to protect people at risk of mass atrocities.
You can get tickets from the Eventbrite page.
Action for Change 2015
Saturday 7th March 2015, from 10:30 AM, Human Rights Action Centre, 23 New Inn Yard, EC2A London
It's that time of year again: Action for Change is coming up. This is another event put on at Amnesty's HQ in London.
Just a reminder if you haven't already registered that registrations for Action for Change 2015 are now open!

Action for Change is a one day event aimed at giving Amnesty student group leaders the skills they need to run amazing groups and win campaigns. This year's focus will be the upcoming UK General Election and, along with a range of workshops on creative campaigning, fundraising and activism, there will be the opportunity to learn all about Amnesty UK's work in the run up to the election and to hone your skills to make sure that your new MP will advocate for human rights.

This event is aimed at student group leaders and is limited to 5 places per student group, so please make sure that you only register five people from your group. This event will be most appropriate for people who run student groups and those who didn't come to Student Conference in November.

Action for Change is one of the most exciting and informative events of the year and tickets always go fast so make sure you book soon!
You can get tickets from the Eventbrite page. You can also find more info on last year's AfC page.
International Women's Week 2015


Just a reminder that International Women's Week is coming up at the end of February / early March. As part of that week we will be putting on a number of events; and in particular we have The Vagina Monologues, which promises to once again be an excellent experience. Keep an eye on Facebook as auditions are coming up soon! If you would like to get involved in any aspect of IWW that we're organising, or have any ideas do feel free to get in touch as we'd love to have you on board.
End of Term Ceilidh
Provisionally Monday 23rd March 2015, Qudos, QMU
Every year (dating back into the mists of time we have a joint ceilidh with GU Red Cross and GRASS.
You can see photos from last year's ceilidh featuring Spootiskerry too! Spootiskerry also kindly played for us at the Syria Week ceilidh a couple of weeks back.
(click for bigger versions; the last one is definitely my favourite)
Photos from Meeting 15: Intro to Transgender Rights
Well done again to Seb and Alex for their presentation (which included some very memorable photos of our lovely friend Vladdy Putin!) and to those who wrote letters.
You can see the rest of the photos right here.
Thanks for Reading
After snow and cute rabbits and such, it's time to kick things up a notch cerebrally! This week's 'thanks for reading' bonus concerns helium. Liquid helium displays some unusual properties once cooled to sufficiently low temperatures: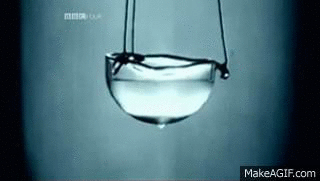 (gif format for those who can't view the video)
Not only can it escape the confines of a container by climbing the walls, it can escape through containers which will happily hold it in a non-superfluid state.
If you cool temperatures down further you can get to a state of matter called a Bose-Einstein condensate, where quantum effect begin to manifest at the macroscopic scale. A video might help explain this.
Enough geeking out! And by way of apologising to the physicists among you (for over-simplifying and likely making more than one error) and the non-physicists (for talking about exotic states of matter); here's a video of some celebrities speaking under the influence of helium.
Enjoy!
Get in Touch
If you have any questions, suggestions or feedback you can always get in touch either via the website or on Facebook or Twitter.
Tags: ceilidh, ghrn, newsletter, spb, student conference, transgender rights
No Comments »
Special Notice
We are continuing our food collection for Maryhill Food Bank. Please bring along cans, jars and packets of food as you have been so generously doing. MFB have a particular preference for certain items that they typically run short of, so if you could bring any of the following in particular that would be even better: puddings, cereal packs, porridge, nappies, wipes, tinned fruit, pasta sauces, sweetcorn, peas, baby food jars or kids clothes. Thank you for continuing to support Maryhill Food Bank so generously!
Here we are with our second newsletter powered by MailChimp! I appreciate everyone's patience while we work through the teething problems- last week's newsletter initially went out unformatted, but a little wind-like coding brought a template into usability! The template still needs a bit of tweaking to get the margins lining up prettily, so continued patience is appreciated. As usual we would strongly welcome feedback; you can find our contact details on the website, or if you are reading this in email form you can simply hit reply!
I'd like to extend a huge thanks to Julie Webster who came down from Maryhill Food Bank to give us the thoroughly interesting and enjoyable talk and Q&A session. It drove home both how important the work they do is and how much of a difference it – and we – can make. A big well done to Seb for getting that organised! Enthusiasm for this campaign and our support is clearly still high, so I have high hopes for our collaboration with the SRC and other groups to do a big food drive!
I also want to say a big thanks to Joe for organising and Harry and the Hendersons for coming along to our lovely Jamnesty Preview Social last week! We got to hear some excellent tunes, which I look forward to hearing again on Wedesday!
This Week
It's a big one with lots on this week folks!
Tuesday 25th November: Jamnesty, Different Aspects of Food Banks and LGBTI+/Homelessness
Tuesday 25th November 2014 5PM, QMU Committee Room 1
This week's meeting will have a few different aspects relating to what we've been looking at with food banks, while still being new and fresh:
– A little spiel about what to expect from Jamnesty, with a last chance to buy tickets!
– A brief overview of the situation homeless people face with regards to food
– An intro and discussion of challenges facing LGBTI+ people who are homeless (with photo action)
Lastly, our intention is to visit supermarkets to do some food collection- we have asked Julie Webster for some guidance on this, so don't be intimidated 🙂
Please also remember to bring along any plastic bottles you might have which we can put to good use for Jamnesty decorations!
Wednesday 26th November: JAMNESTY!
Wednesday 26th November 7PM, Stereo, Renfield Lane
It's here! This week, it's Jamnesty time:
Everybody has been working so hard on this, I know it's going to be a great night! We've all been looking forward to this for a long time, and here it is now. If you don't have your ticket already, you can buy them online. We've got folks high-tailing back from London to make it to the night, so set aside some time and come along!
Thursday 27th November: Reclaim the Night
Thursday 27th November 2014 6:15PM, Starting at Botanic Gardens
If you've read any of the newsletters for the past month you'll already know about this march, but this is coming up this week on Thursday. This year marks the tenth anniversary of the march, and this year's theme is women's safety on campus. The march will take place from the Botanic Gardens on Great Western Road and will proceed to the STUC on Woodlands Road via University Avenue. After, there will be a rally at the STUC with speakers including Denise Mina, patron of Glasgow Rape Crisis centre and Vonnie Sandlan, NUS women's officer.
More information is available from the Glasgow Rape Crisis website.
You can see photos from last year's march which we took part in after a Tuesday meeting.
Coming Up & What's On
End of Term: Christmas Caroling and Social
Day TBC
We've still to confirm a day for this, but we're aiming for a couple of weeks from now. Every year we have a Christmas social and go out and sing some carols. We may hold both of these on the same afternoon/evening this year, so keep your eyes peeled for more details to follow. If you're worried about singing or coming along to these as you don't know folks too well please have no fear! We're no orchestral choir (speaking for myself here!), and regardless of ability it's a good way to get to know the rest of the lovely folks in the society.
Light Against Darkness: Syrian Children's Art Exhibition
St Mary's Cathedral, Great Western Road, 21-30 November 2014
"The whole thing moves from the darkness and trauma of war to the light of the return to happiness and life."
Brian Larkin, Edinburgh Peace and Justice Centre
If you have 20-30 minutes to spare this week I would strongly encourage you to go along to the art exhibition featuring the work of Syrian refugee children at St Mary's this week. We were in attendance for the launch on Friday (partly due to the relevance for our Syrian Refugee Week in January) and the art is incredibly moving.
Picture the usual crayon or paint drawings of kids, the type you would have done back in school. Houses, people, cars. Except here, the houses are broken. The people are lying down, surrounded by red. And instead of cars, there are tanks. Much of the art has captions to go with it. 'I want to go home but it's no there anymore'. 'We hid in the basement but my grandfather was hit in the leg with shrapnel'. 'I miss my town but I see it all the time on the news'. Heart-rending stuff.
I don't want to describe it further as my words cannot do the experience justice. It's not far (closer than Munros) along Great Western Road; about a block past Kelvinbridge subway. I'm not sure if Brian Devlin of the Children's War Museum will be there through the week, but if he is – and I'm sure he would introduce himself – have a chat to him as well, as he can tell some of the story behind the exhibition.
There's a related article on BBC News.
Photo Action for Prageeth Eknaligoda
One of the things we've been wanting to do this year is more online actions- things folks who cannot make the meetings can do from home (or the library!). Since people seemed interested in this, I thought I would include a photo action sent to us by Jim McDonald, the Sri Lanka Country Specialist at AI USA (you may have seen him post on our page before). Here's the message:
Friends,

Prageeth Eknaligoda, a disappeared Sri Lankan journalist/cartoonist, is one of this year's featured AIUK's Write for Rights cases. See http://amnesty.org.uk/write-rights-prageeth-eknaligoda-sri-lanka

Besides writing the Sri Lankan government and sending a solidarity message to Prageeth's wife Sandya, I'd ask that AIUK activists participate in a photo action for Prageeth. I've set up a dedicated page on Flickr for him; see http://www.flickr.com/photos/whereisprageeth. I'd like to get as many photos as possible on the Flickr page by Jan. 24 (the fifth anniversary of his disappearance), at which time I'd share the photos with Sandya and the Sri Lankan government.

Directions on how to do the photo action, along with a sample sign, can be found at http://www.amnestyusa.org/pdfs/AI_SL_flickr_photo_action_kit.pdf. People could use the sample sign or create their own signs saying "Where is Prageeth?" (in English or another language). As the directions say, photos can be emailed directly to the Flickr page. Or people could just send photos to me through Facebook, email them to me at jmcdonald@aiusacs.org, or send them to me through Twitter (@jmccdon).

Thanks a lot for any help anyone can give on this action. Take care.
The Flickr page has 275 photos at time of writing- let's add GU Amnesty's finest effort to that! Show them that Glasgow cares. Here's my contribution: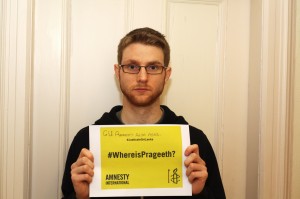 Instructions are in the Amnesty USA link above. We've nearly 1000 subscribers to this newsletter, so grab your phone or camera, write #WhereisPrageeth and send the snap to Flickr. If you're tweeting, mention @guamnesty and we'll give it an RT!
I should also mention that our friends over at the Strathclyde Uni Amnesty group are doing a film screening tomorrow, Monday 24th November at 6PM in the Lounge on Level 5 of their Union (it's a big union!). The film is No Fire Zone – Killing Fields of Sri Lanka so if you are interested and have time I would recommend popping along and saying hi from us!
Strathclyde will also be taking part in the photo petition above – let's get a whole bunch of photos in solidarity.
Request for Comments: FAQs
One of the great ideas our Website Officer Siuan had recently is to get a page started to answer some frequently asked questions; things like "What is a typical weekly meeting like?" or "How can I be involved?". So to that end we've created a page for FAQs!
We're still gathering the questions and writing the answers, so if you have a suggestion or a question, please either email us or use the form on that page. Thanks!
Thanks for Reading
With everyone stressing out about exams, I thought this week's 'thanks for reading' bonus reward value loyalty points members club perk should be something suitably anodyne:
Not enough for you? Alright, have another one:
And with that, I think the internet might have exploded. For those of you with deadlines who appreciate feline-based incentives, you might want to have a look at Written? Kitten! which rewards meeting word counts with cute kitten pictures. Everybody wins!
Get in Touch
If you have any questions, suggestions or feedback you can always get in touch either via the website or on Facebook or Twitter.
Tags: faq, food banks, jamnesty, march, online action, photo petition, reclaim the night, sri lanka, strathclyde, syria
No Comments »

Notwithstanding the egregious howler of a typo that started last week's emailed newsletter, I bring you yet another missive full to overflowing with words for you to decipher.
Another round of thanks are in order this week. Firstly to Sarah and Alex for presenting on Tuesday. It was really handy to have an introduction to the history of race relations in the US as it set the context for what is happening in Ferguson (and elsewhere) succinctly. Well done to everyone who wrote a letter too- sending those off will surely have an impact; and the photos for #FergusonOctober show our solidarity. Have a look at Bex's take on the Ferguson situation too, as it is definitely worth a read.
Thanks too to everyone who helped out with the bake sale on Friday- with all the informative events we put on it's easy to overlook the fact that we need some money to operate; so well done to all involved.
This Week: Ferguson and Other Cases of Racial Discrimination
Tuesday 28th October 2014, 5PM, Committee Room 1 of the QMU

We are planning to build on the work we did on Ferguson last week, with a guest speaker* coming to talk about case studies on injustice and racial discrimination. After that we are going to have a group discussion about cases to come up with new some letter-writing templates, which we can add to our list of resources.
Given that we now know Ferguson is just one incident in a sea of many in the US and around the world which involves police brutality and racial discrimination, it's important to shine a light on the others so that we can send a message that whoever it may happen it is not acceptable.
The session should be informative and also practical, as the group discussion should illuminate how the letters that we (and Amnesty at large) write are composed.
**subject to confirmation*
SUNDAY (TODAY): PUB QUIZ!
Sunday 26th October 2014, 8PM, Jim's Bar (1st Floor of the QMU)

When: Sunday 26th October, 8PM
Where: Jim's Bar, on the first floor of the QM Union
Entry: £3
Join the Facebook event and invite your friends!
Come to Jim's and test your knowledge in our pub quiz. Show off your expertise in equestrian, your panache for performance art or just your magnificence at multiple choice.

Bring your reclusive genius mate to help you along, and your others as padding to laugh at when they miss a date by a couple odd centuries.

Prizes to be confirmed!

All proceeds from the night will go to Amnesty International UK.

£3 entry
It'll be a great night!
Syrian Coalition / Week Update
Next meeting this Thursday 30th October 2014, 4PM Fraser Building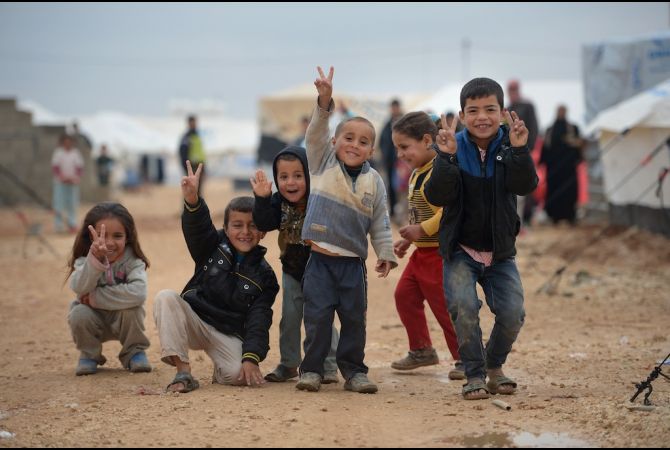 You may remember a previous update in a newsletter about the Coalition for Syrian Refugees. If not, then briefly it's an inter-society coalition with aim of raising funds for and awareness of the plight of Syrian Refugees. GU Amnesty has been involved and none moreso than now. We've already had a meeting which included Oxfam, GRASS and UNICEF with the aim of organising and promoting a Syrian Week of events and information in January. The good news is that the SRC are considering officially endorsing the week!
There's still lots to organise and although January seems miles off by now it'll definitely come rushing up- particularly given there's a whole bunch of exams in December! So if you'd like to get involved please feel free to come along to the meeting this Thursday at 4PM in the Fraser Building and contribute to the week!
Jamnesty Tickets On Sale This Week
With the groovy Jamnesty coming up in just under a month on Wednesday 26th November in Stereo, you might be wondering "where can I buy tickets for this awesome event?". And the answer would be: right here! The ticketing system we used for the SPB is being redeployed to serve the needs of our gig night too. You'll also be able to buy tickets from us in person, of course.
Watch this space! If you have any other questions, please email [jamnesty@guamnesty.org.uk](mailto:jamnesty@guamnesty.org.uk].
Reminder! Wednesday 29th October: Conference – 'Conflict in the Congo: Responses from the International Community'
4-6PM, Senate Room, Main Building, University of Glasgow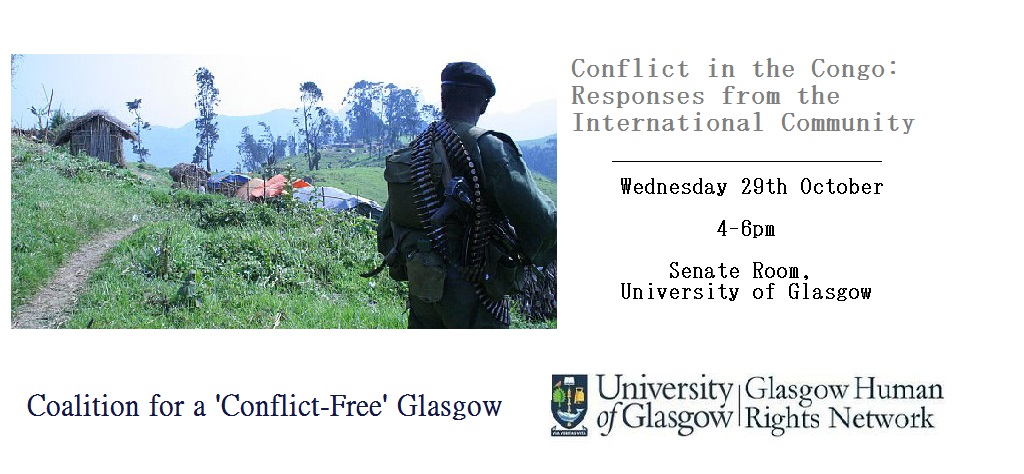 In case anyone missed it (again!) last week, this is coming up this Wednesday. Ruth is looking for a few volunteers – more CV material! – so if you're interested please email mail@conflictfreeglasgow.org.uk and let her know.
With several interesting speakers, this conference co-hosted by CFCI Glasgow, GHRN and Global Security Network is a great opportunity to find out in a bit more detail what has been going on in the Congo and what the response has been.
The event will be free and open to everyone, including all students and staff at the University, members of the Glasgow Human Rights Network and the Global Security Network, and anyone outwith the University who may be interested. The hope is that this event will provide an education to those who have little or no understanding of the on-going conflict in the DRC, as well as giving people from campaigning/academic backgrounds with a focus on the DRC or human rights and conflicts the opportunity to engage with a range of speakers who can discuss various aspects of international interventions.
As I said last week it looks really great and I know that Ruth has put a lot of work into organising the event, so I would strongly recommend gong if you're free at 4 on Wednesday 29th! You can always check out the CFCI Facebook page for more info and updates.
Have a look at the Facebook event for the conference and come along!
Student Conference Travel Plans
In case anyone is coming along to the student conference that we don't know about yet, please get in touch and let us know if you would like to organise group travel with us. No obligation, but it would be nice to travel a group and if nothing else it's good to know who is going!
A Recap In Photos
Maybe you're one of the many people who have joined us in the last few weeks, or recently subscribed to the newsletter. I bet you'd love a recap of some of the things we've done so far, right? Even if you've been with us for years and years, everyone loves photos. So, since I got caught up with the last few weeks of photos this weekend, I can show you what has been happening since term's start.
In reverse chronological order, ish:
– A recent meeting we had on Ferguson, MO: Photos and our contribution to the #FergusonOctober photo petition
– A meeting to elect new committee members and death penalty demo preparation
– Our #DemocracyNowHK solidarity photos
– Choosing our campaigns for the semester
– Our welcome meeting – standing room only!
– A few photos from our stall at the Freshers Fair
– A campaign – the Conflict Free Campus Initiative – that we started on a couple of years ago now has its own coalition and motion before the court- we showed our continued support by taking photos during Freshers Fair and our welcome meeting!
It's great to see so many people taking part and enjoying themselves in the photos- keep it up guys 🙂
Thanks for Reading
This week's 'thanks for reading' reward is something a little closer to home, an animated GIF I made from everyone who took a photo for the #FergusonOctober solidarity action: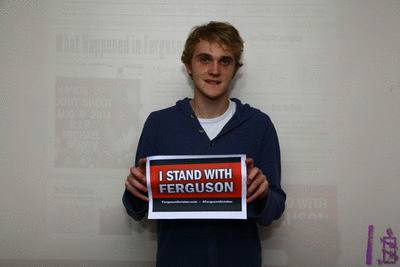 You guys continue to rock.
Get in Touch
If you have any questions, suggestions or feedback you can always get in touch either via the website or on Facebook or Twitter.
Tags: Ferguson, jamnesty, newsletter, pub quiz, student conference
1 Comment »