University Rector Elections
February 13, 2014 in information, main by Dominyka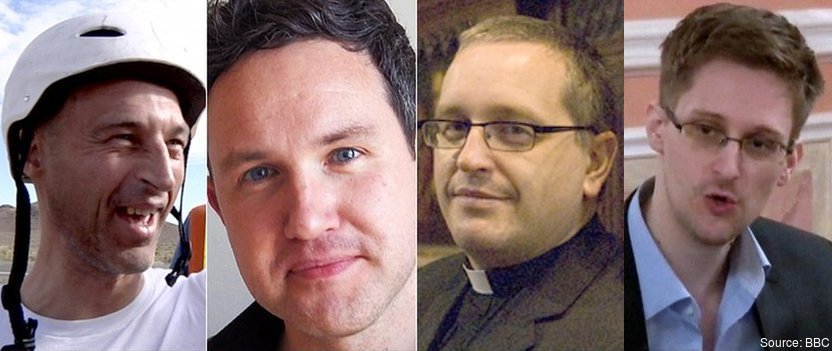 As many of you know, Monday and Tuesday next week will see the Rectorial Election in our university. While Amnesty remains apolitical and does not back one specific candidate, this is something that will affect each of us as students, and therefore the decision should be a well-informed one. For that reason, we decided to look into how every candidate would address human rights issues within and possibly outside the campus, if elected. As the hustings took place last night, I asked about it and am now reporting you what I have been told (with a little bit of context, too)!
Graeme Obree has promoting diversity as one of the aims in his manifesto. Regarding human rights, he said the best thing he could do was showing his own example. He is, after all, an openly gay athlete – and a cycling legend!
A representative of the famous whistle-blower Edward Snowden expressed her view that their campaign is all about human rights and opposing mass surveillance – just like Snowden himself. Having him as Rector, even inactive, would be a great political statement.
Kelvin Holdsworth disagreed somewhat with two previous speakers and said that "we can do more than that". Also openly gay, he has previously campaigned for gender equality and equal marriage in and beyond the Church, where he serves as Rector and Provost. He said he would raise human rights issues. As an example of what he would do, Holdsworth mentioned refusing to meet representatives from oppressive countries during the Commonwealth games.
Alan Bissett agreed with Holdsworth that Rector should use their voice to fight for human rights. He is passionate about gender equality, and had initially planned to step down from the election as there were no female candidates. He would also work to guarantee that asylum seekers and refugees have access to education and are given support with integration. Bisset is a promoter of the Conflict-Free Campus Initiative as well.
If you want to learn more about the candidates, read their manifestos on the SRC page. Hope this helped a bit with making up your mind!
See you soon,
Dominyka