First Meeting and Social
September 21, 2013 in main, news by Ruth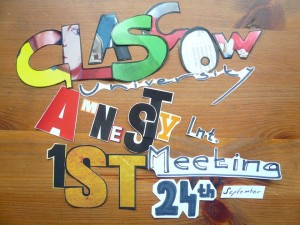 Hello GU Amnesty!
It was absolutely wonderful chatting to so many of you at the SRC and QMU Freshers' Fair this week, and I look forward to seeing you again at our first meeting on Tuesday. A huge thanks to everyone that helped with the stall, I know I wasn't the only one who just about lost their voice after day 1!
First Meeting and Social
Our first meeting will be next Tuesday 24th September at 5pm in the QMU, Committee Room 1. The committee rooms are on the 3rd floor but there will be a couple of us in the reception area to welcome you and show you where to go if you are unsure.
This meeting will be more of an introduction and a chance for new members to get to know who we are and what we do. We will also outline the campaigns and fundraisers for this year and add any new ideas to the list so that we have everyone's thoughts and suggestions before voting on our main events in the second meeting. So if there are any particular campaigning or fundraising events that you think we could do, please share these ideas with us on Tuesday!
As most of you know, Amnesty International UK chose 'Free Pussy Riot' as the freshers campaign so if you didn't manage to sign the petition at our stall, you can do it on Tuesday.
We'll be having a social afterwards at Hillhead Bookclub on Vinicombe Street, which is just off Byres Road. We have booked the space from 6.30pm onwards, but I will need to confirm numbers by Tuesday next week, so please let us know if you are coming! You can either reply to this email, or better still, join the event on Facebook: https://www.facebook.com/events/200011773510109/
Coming up
A Sacrifice
https://www.facebook.com/events/597440403650551/
We are co-hosting a meeting on Tibet with STAR (Student Action for Refugees) which will be on Wednesday 2nd October 6-8pm. It's not during our usual slot, but due to having an external speaker, this was the date that worked out easiest for him. Our speaker Theo Hessing is on tour to promote his documentary on the Tibetan self-immolations, which will be shown in Boyd Orr 412 (Lecture Theatre B). The documentary lasts 30 minutes and will be followed by a Q&A and discussion with Theo.
"A Sacrifice" follows the journey of Lhamo Kyab, a Tibetan nomad living in India, as he secretly returns to Tibet to highlight suffering of the Tibetan people. Meanwhile, 100 Tibetans set themselves on fire. "A Sacrifice" considers the implications of the sacrifices being committed by Tibetans in the name of freedom.